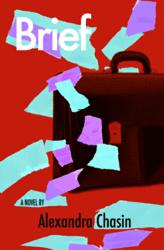 The story chronicles the formation of an art vandal charged with defacing a masterpiece of modern art.
Seattle, Washington (PRWEB) November 19, 2012
Jaded Ibis Press, an imprint of Jaded Ibis Productions, continues its goal of redefining the intersection between innovative literature and technology by publishing Alexandra Chasin's novel, Brief. Designed to incorporate the medium (iPad) as an integral part of the message, the story chronicles the formation of an art vandal charged with defacing a masterpiece of modern art.
The application randomly locates images from a cache of over 700 and then wraps the text around them. The novel's images are not intended to illustrate the text but rather to evoke the novel's time period and storyline, probing the role of cause and effect in history.
Swiping or tapping the screen forward or backward changes the images, so that no screen is the same. Images can also be changed by gently shaking the iPad. Chasin's collaborator, Scott Peterman, designed the 'app-novel' using openFrameworks. Because the screens of Brief are non-repeating, each reader reaches a significantly different experience and shifting meanings.
Alexandra Chasin teaches in the Literary Studies Department at Lang College at The New School and has a PhD in Modern Thought and Literature from Stanford University. Peterman, who teaches in the MFA Design and Technology Program at Parsons, plans to make the open-source code available in a repository provided by Jaded Ibis Productions.
Jaded Ibis will publish Brief in three other editions: black & white illustrated paperback, standard ebook, and a fine art limited edition (special order only) that manifests as a large snow globe containing a miniature artist's easel and 'snow' created from the novel's text and images. The print editions will contain a preface describing the app version and why it is the intended delivery system.
Headquartered in Seattle, Washington, Jaded Ibis Productions researches and publishes narratives that represent a continuum of literary history and the future of narrative arts. The company's intent is to facilitate the convergence of diverse media and art forms, and give wide exposure to literary, visual and musical artists of exceptional talent.