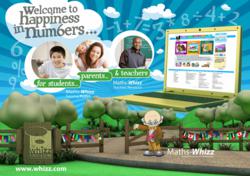 (PRWEB) November 19, 2012
Whizz Education was represented by Chief Operating Officer, Amy Walser and Madeleine White, with Amy receiving the award on Whizz' behalf.
Says Walser: "We are delighted to be recognised for our contribution to furthering education on an international stage. The quality of content we offer, linked to personalised continuous assessment, allows us to raise achievement levels in maths for 5-13 year olds. Technology innovation has given Whizz the scalability to deliver this service to any child around the world.
Whizz Education's learning environment, Maths-Whizz, offers engaging and interactive lessons for students as well as monitoring and support tools for parents and teachers. Our studies have shown that students that use Maths-Whizz for 60 minutes per week can gain, on average, 18 months' worth of progress within a year. This allows students, teachers and educational decision makers around the world to see real and sustainable growth in student achievement.
Whizz Education
Since starting in 2004, Whizz Education's mission has been to raise standards in Maths. Maths-Whizz is supported by Whizz Education offices in London, Seattle and Dubai. Additional support is provided through authorised international partners. Building upon the UK's reputation as a worldwide gateway to the best in education, Whizz has been honoured by numerous awards. Maths-Whizz is used by thousands of 5-13 year olds in over 10 countries, with major growth coming from the USA, the Middle East and Russia. A Spanish language version for Mexico is scheduled to launch in 2013.