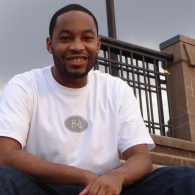 If just one individual takes a small step to help themselves in a positive way, they help the world in their own small way.
Austin, TX (PRWEB) November 20, 2012
As the holiday shopping begins, Austin, TX based BGreaterThanU, LLC hopes buying a gift is not just a shirt but a philosophy of goodwill to all mankind. The belief behind the B>U brand is if an individual does one thing better than they did yesterday, they will contribute their self to a greater world. As more people subscribe to the brand, collectively the world becomes greater.
B>U promotes a 'greater than yourself' brand philosophy through tee shirts and caps. The company only sells their ware through their website, BGreaterThanU.com. They launched in October of 2012 and hope the holiday spirit will begin their journey as a 'cause business'.
The web company founded by Matt Evans and Richard May created a business that's premise is to promote a better world through their B>U brand that people buy and wear. The website's main pages feature individuals and groups who embody the B>U spirit and inspire others to be greater than themselves for a greater world. If an individual believes in the philosophy then they will be inspired to wear that philosophy on a shirt or cap and "join the evolution'.
As a brand new small web business, though, they face enormous hurdles in trying to reach the holiday shopper as corporate retailers have positioned themselves on top of the search engines.
"We have a simple idea that if just one individual takes a small step each day to be greater than themselves, they help the world in their own small way," remarks B>U creator Matt Evans. "Then, the hope is, what if another joins in to do the same thing? Then another and another and then a movement happens to join together for a better world."
But being such a new business, BGreaterThanU.com must begin the long climb of reaching the consumer with their philosophy first, then hoping that individual leaves buying something with the B>U brand on it. The partners say the website, tee shirts and caps are just the beginning. They see themselves creating a virtual community of like-minded individuals joining what they term as the evolution.
About B>U:
B>U is a cause business that promotes and encourages individuals to be greater than themselves for a better world. For more information, go to BGreaterThanU.com.