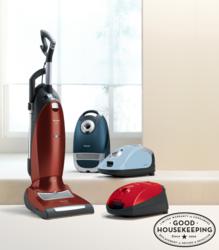 Chicago, IL (PRWEB) November 19, 2012
Best Vacuum, Inc., the Chicago-based retailer of Miele vacuum and other high-end vacuum cleaner and home care and comfort products brands, has launched a redesigned Web site that integrates best-of-breed e-commerce capabilities with the user-friendliness that has made the Best Vacuum Web site an Internet favorite for nearly 20 years.
The new Web site makes it easy for visitors to navigate through brands and product categories to find the items they are looking for. Enhanced product page features include new images with close-up zoom, expanded descriptions and customer reviews. Accessories and maintenance items, from cleaning tools to replacement bags and filters, are organized into separate, easily accessible sections for quick ordering or re-ordering.
There also are expert reviews and suggestions for the best vacuum cleaners for people with allergies and asthma and for cleaning pet hair, as well for carpets, wool rugs or hard floor surfaces. In addition, the new site offers a series of vacuum cleaner buying guides and informational articles to help visitors learn more about vacuum cleaners, air purifiers and home comfort products and choose the best ones for their needs.
Best Vacuum was one of the first bring-and-mortar retailers to sell on the Web, launching its original Web site in 1995 with Miele vacuum cleaners and Austin Air air purifiers. The new launched site, is the fourth generation of Best Vacuum ecommerce site, and includes a broad range of premium brands in addition to the original Miele and Austin Air offerings.
Among the product types and brands available are Sebo, Electrolux and Dyson vacuum cleaners, IQAir, Blueair and Allerair air purifiers, Air-O-Swiss and Venta-Airwasher humidifiers, Reliable and Laurastar professional ironing products.
In addition to BestVacuum.com, the company operates two brick-and-mortar storefronts in Chicago's Lincoln Park neighborhood, 2646 N. Lincoln Avenue, Chicago, IL 60614, and west suburban Oak Park, 148 N. Oak Park Avenue, Oak Park, Illinois, 60301. Phone orders also are accepted toll-free at 888 205-3228. Best Vacuum offers free same-day shipping on these Miele vacuums and free ground shipping on all orders over $50 to the 48 contiguous states.