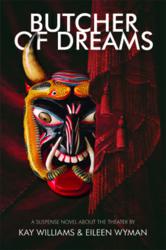 "Don't start this wonderful story if you have something else to do, because this fantastic plot will win the fight!" Shelley Glodowski, Midwest Book Review
New York, NY (PRWEB) November 19, 2012
Set in the seedy mid-1980s New York City neighborhood of Hell's Kitchen—where drugs and prostitution run rampant—Lee Fairchild's repertory theater is the perfect place for a murder. After a ritual Aztec mask is stolen during a cast party, bad luck plagues the troupe: An actor is stabbed, an actress poisoned. Arcane markings appear on stage sets. Lee and her troupe of temperamental actors must face a dangerous madman, while trying to put together a successful opening season for their off-Broadway theater in Kay Williams' and Eileen Wyman's spine-tingling "Butcher of Dreams."
The lead character in "Butcher of Dreams", Lee Fairchild, is smart, tough, talented, sensitive, just the kind of woman who can successfully manage and act in her own off-Broadway theater. She can cope with the seedy streets of New York in the 1980's, and can juggle the many needs of her gifted but tormented co-workers with the vision of great shows. But Lee is emotionally vulnerable because of her husband's recent death and falls into a passionate affair with a younger man. When a ritually mutilated body is found in her theatre she must fight her way through a bewildering mesh of loves, fears, egos, myths, and blood to discover the truth that will save her theater and herself.
Full of authentic gritty detail about off-Broadway in the 1980's, "Butcher of Dreams" also has undercurrents of the supernatural. A Mexican mask, stolen from the Lee's home during a cast party, its eyes glittering with secrets of the ancient Aztecs and sacrifice, is a catalyst for bizarre, seemingly unrelated events which turn into a deadly game.
Other main characters are: Alan Dunbar, Lee's Artistic Director, with troubling gaps in his resume; Lee's other director, Ernst Kromer, rigid and uncooperative; Michael Day, Lee's sexy and mysterious assistant; wraithlike Fleur Mahoney, whose first role is a dead girl—and she almost is; Barry Blackwell, talented actor, compulsive practical joker; Harry O'Brien, company stage manager, who'd kill for a role. Characters from the "real" world include Alan's lover, Walter Kaplan, eccentric psychiatrist and medical anthropolo¬gist; Heather, Lee's 18-year-old daughter who has a surprising secret life; pock-marked, cynical NYPD Detective Mordecai Green, who moonlights as an actor.
In addition to being awarded Finalist in the 2012 USA Best Book Awards, "Butcher of Dreams" was selected as the best mystery/thriller/suspense book by Reader Views Annual Literary Awards, and won their Book of the Year Award, competing with books in 50 categories. In 2011 the book was a Global E-Book Award winner in the Best Thriller category. It has been adapted into a screenplay.
Co-author Kay Williams is a professional actress who has played leading roles at theaters around the U.S. She has acted in radio, television, and films, and has worked behind-the-scenes as an assistant producer with an award-winning independent filmmaker in New York City. When acting roles began to dry up, she turned to writing, teaming up with Eileen Wyman, who'd had a career in radio/television and success as a comedy writer.
Kay and Eileen continue their writing collaboration, having just completed a thriller about filmmakers competing at the 1991 Leningrad Documentary Festival against the chaotic backdrop of a disintegrating Russia.
Kay is also a co-author of the award-winning "One Last Dance: It's Never Too Late to Fall in Love," a romance novel started by her father, the late Columbus Dispatch journalist Mardo Williams, and finished by Kay and her sister Jerri Lawrence.
If you're looking for a great thriller for your reading group "Butcher of Dreams' has unforgettable characters and first rate suspense.
"Butcher of Dreams" may be purchased in print or as an e-book (Kindle, Nook, etc.).