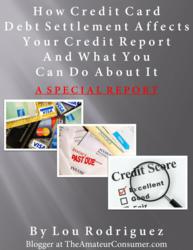 Even though your number one priority should always be to settle your debt and move on with your credit and financial life, the fact is; all aspects of debt settlement are negotiable
Coral Springs, FL (PRWEB) November 18, 2012
We all know that failure to pay creditors under the terms originally agreed to will reflect negatively on our credit report. But should an account go into collections, one of the consequences of any debt settlement is the damage caused to ones credit score. Although the effects of debt settlement on credit is often unavoidable, there are ways to minimize that damage if consumers know what to say, and how to negotiate, during the do-it-yourself debt settlement process.
"I created this special report because I got tired of reading and listening to the so called "credit and debt experts" continually espouse the view that consumers have to settle their debt first - then work on improving their credit report second," said Rodriguez.
He added, "Even though the number one priority should always be to settle debt and move on with your credit and financial life, the fact is; all aspects of debt settlement are negotiable."
This book aims to show consumers how to minimize the damage that will be done to their credit report by explaining in clear detail how to negotiate their credit rating with both creditors and collection agencies.
This book is specifically for:

people who are settling debt on their own
people who want to minimize the damage of debt settlement to their credit
people who want to learn exactly what to ask and negotiate for during this process
"Because of all of the misinformation out in the blogosphere, I felt I needed to give consumers a different and substantiated point of view so they may know that there is absolutely no reason why they shouldn't attempt to manage and minimize the damage to their credit report while attempting 'do it yourself' debt settlement", said Rodriguez.
At present, the book is available for FREE through November 22, 2012 at Amazon.com. Afterward, it will be priced at $4.99. "The report is priced to put it within reach of the vast majority of people, even for those with the humblest of budgets" said Rodriguez. He added, "One things for sure; if you don't ask, you won't get! And this book will show consumers how to do both!"