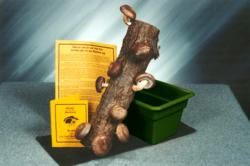 We've kept the price of our Original Tray Kit the same for years, despite higher shipping costs. It's our pride.
Our joy is giving people a good product and a good experience at a good price.
Perkins, OK (PRWEB) November 20, 2012
Growing shiitakes is a gardener's delight and a dream come true for the mushroom lovers on your list.
"These are actual pieces of hardwood logs inoculated, or seeded, with organic shiitake mushrooms," according to Doug Williams, owner of Lost Creek Mushroom Farm and a shiitake grower for over 25 years. "It takes almost a year from inoculation to production, and they're ready now to fruit for the holidays."
The logs love light and room temperatures. They can grow indoors like plants for year-round fruiting and can grow outdoors in shade for bountiful spring and fall harvests.
"Shiitake logs are clean, easy to care for, and last for years," Doug explained." You soak them in non-chlorinated ice water. That 'shocks' them into fruiting. The mushrooms are ready to pick in about 10 days. A maintenance soak in room-temperature, non-chlorinated water every 2 weeks feeds the logs as they 'rest' and get ready to grow another crop in about 8 weeks."
Lost Creek Mushroom Farm shiitake log kits come in a size and price for everyone's holiday gift list. All prices include shipping and handling.

The 6-inch 'Shroomie sells for $18. The same log as larger kits. Not guaranteed because of shipping costs.
*The next step up is the 9-10-inch single log kit for $29.95. Fully guaranteed to fruit.
*A 12-inch single log kit will fill up a stocking for $36.95.
*The Ma & Pa Shiitake Log Kit comes with two 9-10" logs that can grow a crop every month by alternating the fruiting log, $49.95 delivered.
The Original Tray Kit, the hallmark of Lost Creek's holiday gifts, a 14-inch log with its own tray for soaking, fruiting and resting a log. $45.95, including shipping.
The Best Buy, a $12 savings. Two Original Tray Kits for $80 shipped to the same address. "Give one away and keep one for yourself," suggested Doug, "or use them like the Ma & Pa Kit, to get a crop of fresh shiitakes every month."
Gift baskets, "Shiitake Happens" bumper stickers and other products, such as the "Shiitake Sampler Cookbook" are available on the Lost Creek Mushroom Farm website.
All kits come with a ready-to-fruit hardwood log, instructions, and recipes. Logs 10 inches and longer are guaranteed to grow shiitakes.
Lost Creek Mushroom Farm donates a portion of sales to The Voice of the Mushroom Foundation and the Mushrooms in Ghana Project, now in its fifth year. The Foundation promotes mushroom production as a means of economic stability and promotes mushroom consumption for health and well-being worldwide.
Order online at http://www.shiitakemushroomlog.com, order by phone at 1-800-792-0053, or order on Amazon.com at slightly higher prices.