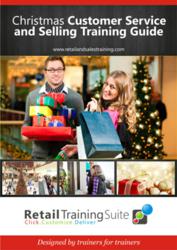 If a store has a team of super sellers on their top then busiest days, they'll achieve much higher sales than a store with mere 'counter jockeys' or 'meet and greeters'.
(PRWEB) November 20, 2012
ShopperTrak's forecasted busiest traffic days are as follows. Retail sales training is essential for maximizing sales potential these days.
1. Friday, Nov. 23 (Black Friday),
2. Saturday, Dec. 22 (Super Saturday),
3. Saturday, Dec. 15,
4. Saturday, Dec. 8,
5. Wednesday, Dec. 26 (Day after Christmas),
6. Sunday, Dec. 23,
7. Saturday, Nov. 24 (Black Saturday),
8. Friday, Dec. 21,
9. Sunday, Dec. 16,
10. Saturday, 1st December.
Most retailers will increase their staffing levels over these days, but very few of their extra staff will actively sell. Authentic Training Company Founder Melissa Davies says - "How many times have you walked into a store on a busy shopping day to see staff members merely standing around? The store is busy with shoppers, but the sales assistants are not interacting with them. Sure, they add some festive cheer to the store as they're adorned in their Christmas novelty wear, with wide lovely smiles as customers enter, but other than that they're not adding a lot of value". Investing in the right retail training program is vital for converting shoppers into buyers this Christmas.
Here's what staff should be doing to maximize sales: 1. Engage customers, chat to them, have fun with them, 2. Demonstrate products, create in-store theater, 3. Explain features and benefits, show how products work, 4.Suggest gift ideas, take an interest in each customer's unique needs, 5.Recommend complimentary add-on items and 6. Transition them from the sales floor to the register.
If a store has a team of super sellers on their top ten busiest days, they'll achieve higher sales than a store with mere 'counter jockeys' or 'meet and greeters'. Selling is not easy and so managers can't assume temporary part-time staff will just 'pick it up'. They need to be taught the skills – they need to be trained.
Authentic Training have developed a retail sales training program for Christmas staff. The package, in a 'done for you' format, is quick and easy to deliver and contains everything a retail manager or small business owner needs to prepare their staff and temporary employees for bumper Christmas sales. "At a time when retail managers are time poor, but a lot is at stake, it's important they have all the tools they need to train their sales staff", says company founder Melissa Davies.
Smart retailers leave nothing to chance. They do everything they can to maximize sales during this narrow window of opportunity. Hiring inexperienced staff at the last minute and providing the sink or swim approach to training is a recipe for disaster. Retailers who want confident and capable Christmas selling teams should invest more in their training. A quality training program can be the difference between mediocre Christmas sales and bumper Christmas sales.
Authentic Training specializes in developing innovative retail and sales training packages that small business owners, managers and trainers can deliver themselves. Their vision is to provide a suite of tools that empower retail teams to achieve unprecedented levels of success and professionalism.
Further information:
Melissa Davies, Company Founder
Authentic Training