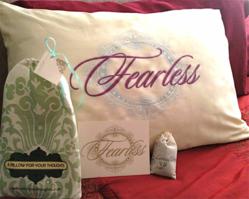 Inspired Thoughts to Sleep On.
Los Angeles, CA (PRWEB) November 18, 2012
Dream Kit Pillowcase with affirmations is the luxurious new gift idea from http://www.apillowforyourthoughts.com. The pillowcases are made in the USA and are a 100% cotton sateen envelope style.  Each pillowcase comes with a beautiful affirmative word that allows the owner to meditate on the encouraging thought as they lay there head down for sleep.
The pillowcases feature affirmative words such as "Faith", "Fearless", "Abundance", "Love", "Worth" "Greatness" and more.  The Dream Kit Pillowcases also come packaged with an organic lavender sachet, which is hand stamped, a keepsake affirmation card, and a designer reusable sachet for storage, along with a gift card – pillowcase- gram of sorts!
The new bedtime thought enhancing pillowcase is a unique product that makes a wonderful, luxurious gift for Christmas, weddings, birthdays, or any special occasion.  Inspired thoughts to sleep on, at http://www.apillowforyourthoughts.com is a labor of love for the Company with the concept that if everyone slept on a positive thought, the world would be a better place.
Dream Kit (pillowcase-gram of sorts) includes: 1 specially crafted Pillowcase made in USA, keepsake affirmation card, organic French lavender sachet, gift card, reusable designer sachet for pillowcase storage/gift bag + instructions for a wonderful new bedtime routine of inspiration. Owner,  Jane Castillo states, "Magical serendipity led us to bring the pillowcases to market. We initially shared prototypes with friends that delighted in the pillowcases.  Many shared their experiences firsthand and the sleepers and dreamers were revealing wonderful experiences."
A Pillow For Your Thoughts is offering a 20% off Sitewide sale on Cyber Monday, November 26, 2012.
"I love the concept of "A Pillow for your Thoughts." Every person can relate to these wonderful affirmations and rest well at night, knowing that the meaning of the words wafts gently around them as they sleep. "Abundance," "Love," "Greatness" – all of these pillowcase and sachet Dream Kits make beautiful and positive gifts for family and friends.
"Jane has created something special that carries both sentiment and charm for anyone who rests their head upon them. Now, a visit to the sandman can include a night filled with happy thoughts and fragrant dreams. I have "Abundance" on my pillow – and expect to sell one of my movie projects very soon!  Thanks, Jane, for your delightful new products."
 –Marilyn Anderson, Screenwriter and Author of Never Kiss a Frog: A Girl's Guide to Creatures from the Dating Swamp