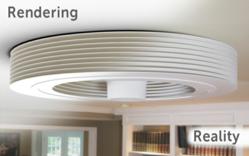 We are excited to be manufacturing in the USA and bring jobs to our local community
Georgetown, Indiana (PRWEB) November 20, 2012
Wanting to create a more comfortable environment led to the innovation of the Exhale fan. Its stacked discs use laminar flow to smoothly draw air upward through the center of the fan, propelling it in a 360⁰ pattern outward along the ceiling. This airflow creates a gentle vortex in any room. With its low profile and minimal appearance, this bladeless ceiling fan fits well into design interiors from the ultra-modern to traditional.
Dedicated to manufacturing the product in the USA, Exhale Fans has built a relationship with Future Mold, a local injection molding and assembly facility in New Albany, Ind. "We are excited to be manufacturing in the USA and bring jobs to our local community," says President and Inventor Nik Hiner.
Exhale Fans is now into its third week of funding with indiegogo (http://indiegogo.exhalefans.com), selling fans for as low as $250 for 'Early Birds'. The Funding will be used to finish production tooling, purchase raw materials, and UL approval. The company is scheduled to begin production in Q1 with first shipments by March.
About Exhale Fans, LLC.
Exhale Fans, LLC. was formed in 2011 and is located in Georgetown, IN. With a solid technical and management team, Exhale Fans is positioned to release our first production fan in late 2012. Utilizing a 'Know Before You Go' philosophy has allowed us to perfect a manufacturing process to provide a high quality product for the consumer.