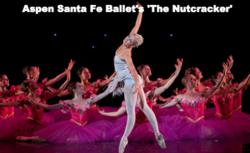 Santa Fe, New Mexico (PRWEB) November 17, 2012
With visions of sugarplum fairies, handsome princes and courageous soldiers,Aspen Santa Fe Ballet's The Nutcracker is full of childlike wonder. Children of all ages will marvel at the magic of this sumptuous production with its dazzling dancing, magnificent sets and cast of 60 dancers, actors and circus artists. This event is set for four performances at the Lensic, Santa Fe's Performing Arts Center over two days as follows: 2- 5 p.m. and 7:30 – 10:30 p.m., Saturday Dec. 1, 2012; 1 -4 p.m. and 5 - 8 p.m., Sunday, Dec. 2, 2012. Santa Fe's premier on-line visitor guide SantaFe.com features this event on the company's event calendar.
This holiday season, visitors and locals are invited to come and be a part of the magic of Aspen Santa Fe Ballet's The Nutcracker.
Tickets are available on-line. Click here to buy tickets for this wonderful holiday season event.
About the Aspen Santa Fe Ballet:
Aspen Santa Fe Ballet's bold vision – top global choreographers, distinctive groundbreaking works, and virtuoso dancers – has fostered a jewel of a dance company in the American West and beyond.
ASFB's unique pioneering spirit arises from a paired set of home cities: Aspen, nestled high in the Rocky Mountains, and Santa Fe, gracing the majestic Southwestern plateau. For 16 years, the company has served as a prestigious incubator and a showcase for choreographic invention to popular and critical acclaim.
The performing troupe forms the core of a multifaceted arts organization with activities in both Aspen and Santa Fe. A respected arts presenter, ASFB curates high-quality dance programming for home audiences. Dance education is a priority, with well-established ballet schools training children and adults in both markets. An outreach program steeped in Mexico's rich folkloric culture fortifies community connections.
About The Lensic, Santa Fe's Performing Arts Center:
The Lensic Performing Arts Center opened as a nonprofit in 2001 following the restoration of the Lensic Theater, a cornerstone of downtown Santa Fe since 1931.
The Lensic:

Serves as a national model for a sustainable arts center—with its focus on performance, education and community programs.
Presents over 200 eclectic performances year-round, at affordable prices, delivering outstanding local, national and international talent.
Enriches public education by bringing more than 10,000 school children to the theater annually to see free performances of music, storytelling and dance.
Subsidizes local arts organizations, like the Santa Fe Concert Association, Santa Fe Symphony and Santa Fe Pro Musica by covering half of the rental fee for each group that uses the theater.
Offers its facilities to local nonprofits for free, or at a nominal cost, helping more than 160 organizations raise $1.7 million over 10 years.
Delivers best-in-class technical support capable of serving world-class organizations from traveling Broadway shows to the Moscow Ballet.
Sponsors a technical internship and scholarship program to train Northern New Mexico high school students in theatrical arts.
Serves as a home to the nonprofit Tickets Santa Fe, a community box office serving more than 35 organizations and venues.
About SantaFe.com:
SantaFe.com provides locals and visitors to Santa Fe alike the most current interactive platform for events, music, arts, business, dining and lifestyle. SantaFe.com is a division of Hutton Broadcasting, located at 2502 C. Camino Entrada, Santa Fe, NM 87507
Contact Information:
Scott Hutton
SantaFe.com / Hutton Broadcasting
http://www.santafe.com
(505) 471-1067 (Media inquiries only, please)