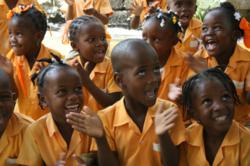 COHP is literally a shelter in the storm – it's a safe haven for children who would have nowhere else to go.
Hyannis, MA (PRWEB) November 18, 2012
AOL has selected the Children of Haiti Project (COHP) as its Cause of the Day on November 18, 2012. AOL Impact features a daily cause or charity on AOL's home page, which in their own words is "dedicated to everyday good." AOL has created the cause of the day as "a way to connect people with charities, make it easy to get involved, and share the missions of organizations simply doing amazing things."
Doing amazing things is exactly what COHP is doing. More than two years after the devastating earthquake that hit Haiti, COHP, continues its mission of providing education, food and healthcare to the 84 children who live in the nearby Delmas tent city in Port-au-Prince.
"The Children of Haiti Project is an impressive organization, focusing on literacy and education for deserving students. We are proud to support COHP and the amazing work that they do," said Faith Botica of AOL.
This support comes at a critical time especially as Haiti recovers from this year's hurricane season where storms Isaac and Sandy have left a wake of destruction in the beleaguered Caribbean country. The COHP School serves as a shelter during high intensity storms where students and their families can gather in a safe place during hurricane season.
The school is also trying to secure funding for a larger space for the growing youngsters. "COHP is operating in cramped facilities that they have outgrown," said Frank Anderson of COHP's executive committee. Anderson says the school is seeking funding to purchase a larger facility nearby, not only for enhanced security, sufficient classroom space and appropriate hygiene facilities for the students, but also for "adequate green space for physical activities, actual trees and grass rather than dust, dirt roads, and open sewerage and dumping areas, which unfortunately, are near the current site," says Anderson.
Additionally, COHP is limited in its mission because it cannot take in new students, despite the pressing need of hundreds of children who live in the nearby tent city who have no school to attend. COHP lacks the funding to expand beyond serving the original children who were enrolled when the school opened its doors in 2010, and reluctantly has to turn away children who desperately want to attend school.
COHP relies on the support of the international school community which has come together in creative and novel ways to raise funds for the school. "We have been fortunate to receive an outpouring of support from the international school community and associates, but the challenge is to sustain the program from year-to-year," said Forrest Broman, CEO of The International Educator, the non-profit organization that helped create and organize the COHP School.
"We are grateful for the support that AOL Impact is lending to COHP, because it's now more than two years after the tragedy, and the earthquake has slipped from the public's collective memory, yet the need still remains great," reminds Broman. "AOL's Cause of the Day is an important reminder," says Broman because "The work that COHP does for its students goes far beyond providing education and nutrition -- COHP is literally a shelter in the storm – it's a safe haven for children who would have nowhere else to go."
The International Educator (TIE), located in Hyannis, MA, is a non-profit organization that created, along with partners at international schools and organizations, the Children of Haiti Project (COHP) to serve the educational needs of children displaced after the 2010 earthquake. To give to COHP, please go to Children of Haiti Project.org and click on Donate. Your contributions are tax-deductible and make a difference in a child's life.