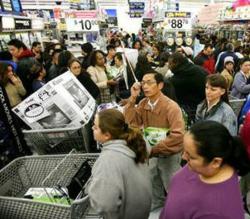 New York, NY (PRWEB) November 17, 2012
Savvy shoppers looking for Black Friday Deals can find them all in one place at Black Friday Ads. This website has included information on Black Friday Deals from all major online retailers.
In recent years, the week before Thanksgiving has been spent in anticipation of getting the best deals on all holiday purchases. Black Friday has become a ritual for millions of consumers nationwide trying to get more bang out of their buck. Retailers open up earlier each year and some are even open on Thanksgiving Day to try to snag shoppers.
Some common items that are purchased on Black Friday include: TV's, laptops, cameras, clothing and toys for Christmas. Large retailers try to lure shoppers to their online and brick and mortar stores by running countless ads on TV and radio. Retailers even use social networking as a means to reach all types of shoppers. The Apple IPad Mini and Amazon Kindle will be big items this year as will any kind of toy for children of all ages. Generally shoppers can almost always find the very best prices of the year on Black Friday.
The average consumer has already made a shopping list for Black Friday morning that usually consists of trips to Walmart, KMart, Home Depot, Target and ToysRUs. These stores will all be jam packed on Friday morning and shopping at 4:00 a.m. is not all its cracked up to be. Shoppers stand in long lines only to find out that the stores have received only 25 of the TV's they advertised and you're the 26th person in line.
For Black Friday 2012, relax at home and do your holiday shopping online. Retailers have pretty much the same sales online as they do in their stores for Black Friday. Shoppers can visit countless stores online in a fraction of the time it would take to go to the same stores in person! Black Friday Ads makes holiday shopping a pleasant experience for shoppers of any age.
Savvy shoppers need to continually check for all the best Black Friday sales and deals from all online retailers. Find Walmart Black Friday Deals, Amazon.com Black Friday Deal of the Day and KMart Black Friday Sales.