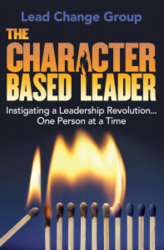 (The authors) aim to provoke thought and to inspire people to take action, trying out their ideas and skills in engaging the world.
Owasso, OK (PRWEB) November 19, 2012
The authors of this new book do nothing less than call for a leadership revolution. These 21 people, all steeped in the core beliefs of a leadership group devoted to creating positive change in the world, share their stories and lessons learned about making character count in leadership. "There's no textbook for great character-based leadership. We didn't set out to write one, either, because leadership is learned, not taught," Mike Henry Sr. writes. "It's an internal process, not an external one, even though the results are evidenced externally. To help people along the path to being the change they want to see in the world, we shared our ideas, our passion and our experiences so readers could connect, engage and mobilize in their own pursuit of leading from who they are, not where they are. That's the crux of character-based leadership."
"The Character Based Leader" offers a diversity of styles and specifics in delivering its core message. The book features sections on different aspects of leadership, from the advantages of character-based leadership to the traits of a true character-based leader. It includes chapters on leadership communities and how to move forward in the process of becoming a leader based on who you are, not from positional power. The focus is clear, as this passage from the third chapter notes: "To produce a world of great leaders at home, in the community, and in organizations, the time has come to make people's character priority number one."
As Douglas Conant, retired president and CEO of Campbell Soup Company, writes, the book is "a rich and comprehensive collection of compelling perspectives on the importance of character in the leadership equation."
The Lead Change Group, a nonprofit global organization that formed in 2009, is devoted to starting a leadership revolution that encourages, energizes and equips people to apply character-based leadership to affect positive change. Its goal is to help each other be producers rather than consumers. Founder Mike Henry Sr., who serves as "chief instigator" of the organization, is a leadership-development specialist and consultant who mobilizes and energizes leaders. More information is available at leadchangegroup.com.
----------
For additional information, please visit http://www.characterbasedleader.com.
The Character Based Leader: Instigating a Leadership Revolution … One Person at a Time
Lead Change Group
Dog Ear Publishing
ISBN: 978-1-4575-1222-3
244 pages
$17.00 US
Available at Ingram, Amazon.com, Barnes & Noble and fine bookstores everywhere.
About Dog Ear Publishing, LLC
Dog Ear Publishing offers completely customized self-publishing services for independent authors. We provide cost-effective, fast, and highly profitable services to publish and distribute independently published books. Our book publishing and distribution services reach worldwide. Dog Ear authors retain all rights and complete creative control throughout the entire self-publishing process. Self-publishing services are available globally at http://www.dogearpublishing.net
and from our offices in Indianapolis.
Dog Ear Publishing – self-publishing that actually makes sense.