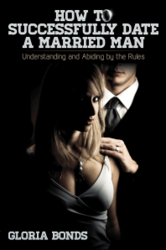 Her research reveals a pattern of behavior by married men and their mistresses and the lessons learned by everyone involved.
Lorton, VA (PRWEB) November 19, 2012
Being the other woman in a relationship with a married man brings its own set of rules and expectations, notes Gloria Bonds, the author of a new book that delves into the topic. Bonds presents the research she gathered from more than 250 interviews with women involved with married men, cheating husbands, and a sample of married women. Her study revealed patterns of behavior by married men and the commonality of thinking among women who cheat with them.
"How to Successfully Date a Married Man: Understanding and Abiding by the Rules" offers a look into the way that women think who are or were the other woman and their relationships with married men. Bonds' research doesn't promote cheating: Instead she provides commentary on the cognitive processes of women who willingly enter in to relationships with married men believing their encounters will be the exception with a successful outcome. For instance, readers and some women may identify with the story of Lisa and Brad, who met at work. They strike up a friendship that turns intimate as Brad bitterly complains about his wife and their troubled marriage. Lisa begins to yearn for an exclusive relationship with Brad when he insists that although he doesn't love his wife, he must stay married for his children. Lisa continues to believe Brad's excuses until she learns that he and his wife are expecting a baby.
Other chapter discussions are on why women should avoid dating married men, what to expect from married men, the personalities of men who cheat, exploring if cheating can exist without sexual activity, why the other woman should leave the wife alone, and how to move on once the relationship with the married man ends. Readers will gain further insight on how to avoid entanglements with married men, why dating a separated married man is still cheating, and a confession by Melanie supporting the often times perils of dating the other woman.
This is the first book for author Gloria Bonds, a PhD candidate in clinical psychology, who has a professional background in human relations and life and career counseling. She is also a member of The Writer's Center, Association of Writings and Writing Programs, Society of Children's Book Writers and Illustrators, American Psychological Association and The Association for Psychological Science.
----------
For additional information, please visit http://www.gloriabonds.com.
How to Successfully Date a Married Man: Understanding and Abiding by the Rules
Gloria Bonds
Dog Ear Publishing
ISBN: 978-1-4575-1097-7
188 pages
$15.95 US
Available at Ingram, Amazon.com, Barnes & Noble and fine bookstores everywhere.
About Dog Ear Publishing, LLC
Dog Ear Publishing offers completely customized self-publishing services for independent authors. We provide cost-effective, fast, and highly profitable services to publish and distribute independently published books. Our book publishing and distribution services reach worldwide. Dog Ear authors retain all rights and complete creative control throughout the entire self-publishing process. Self-publishing services are available globally at http://www.dogearpublishing.net
and from our offices in Indianapolis.
Dog Ear Publishing – self-publishing that actually makes sense.