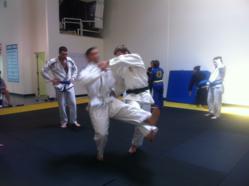 "We are always looking to expand our horizons by bringing in the best martial artists, fighters, and coaches in the world."

- Julius Park
Elkridge, MD (PRWEB) November 17, 2012
Nick Delpopolo, 2012 Judo Olympian, held a three-hour training seminar in Elkridge, Maryland for aspiring martial artists.
The Twenty-two year old U.S.A Judo champion Nick Delpopolo is currently ranked #1 in the United States and #16 in the world. Born in Belgrade, Nick Delpopolo spent the first 21 months of his life in a crowded, crumbling Montenegro orphanage. Then, he was adopted by a couple from New Jersey and moved to the US.
In 2009, when he transitioned from junior to senior athlete, Delpopolo was positioned at #99 in the world rankings. In 2010 he took the Judo world by storm and moved up an amazing 83 spots, rising to #16 in the world by years end. Delpopolo took Gold at the Venezuela World Cup and the El Salvador World Cup, Silver at the USA Judo Senior National Championships and Samoa World Cup, and a Bronze at the USA World Cup and Abu Dhabi Grand Prix, finishing 2010 as the top medal winner in the World in his division.
He recently competed in the 2012 London Olympics.
Crazy 88 Brazilian Jiu-Jitsu, the biggest Mixed Martial Arts gym in the Baltimore area, hosted the workshop. The training session was hands-on and included both instruction and time for Q&A from the interested attendees.
"We are always looking to expand our horizons by bringing in the best martial artists, fighters, and coaches in the world. We are always happy when Nick comes in to work with our students - where else are you going to find an active Olympic-level competitor willing to come in and work with Jiu-Jitsu guys?" said Head Coach, Julius Park.
Crazy 88 Brazilian Jiu-Jitsu and Nick Delpopolo are planning on doing a week-long Judo Intensive program during the Holidays to expand on the lessons of this weekends workshop.