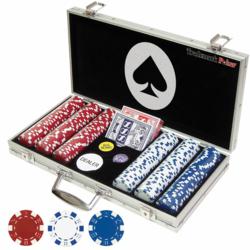 we're not bluffin' when we say we are giving our customers a 10% discount on everything in our stores from now until Christmas.
College Station, Texas (PRWEB) November 20, 2012
The Texas Poker Store has had a great month. After the release of their music video, "I May Be Bluffin," their brand is stronger than ever, their customer base has broadened and TPS owner, Jim Paris, wanted a way to thank their supporters.
"We May Be Bluffin when we splash our chips 'all in' at our local tourneys," says Paris, "but we're not bluffin' when we say we are giving our customers a 10% discount on everything in our store until Christmas, which, of course, includes Thanksgiving, Black Friday and Cyber Monday."
Paris says he hopes his customers shop until they drop. "I'm asking them to buy all their holiday gifts for the poker players in their family and their poker playing friends and receive our Christmas present of a 10% discount on their entire cart when they check out. It's our way to help them enjoy the holidays."
After launching their Premier section of high-end products last month, The Texas Poker Store just added another new product category.
"A lot of people, especially college students and those on tight budgets, have asked us for products that are functional but affordable, so we decided to create an inexpensive alternative for them," Paris states. "We didn't want to forget all our friends who are looking for the best deals with the biggest bang for their buck. Starting this week, we now have the "Bargain Basement" which we've stuffed full of cool but inexpensive poker chip sets, poker table tops, folding poker tables, cards and just about everything a poker player would need . . . and still have enough left over to have some great poker games."
Paris urges his customers to shop early since the 10 percent discount only applies to items in stock. "With the unbelievable popularity of poker, it's easy to run out of poker supplies before Christmas," says Paris. "I just want our customers to be able to take advantage of our across-the-board discount."
Located in College Station - Bryan, Texas, the Texas Poker Store is a fully-stocked online poker store that offers 100 percent secured shopping and features hundreds of poker supplies. The Texas Poker Store was founded by Poker Lovers and Die Hard Players, Jim and Lynn Paris. We live in Texas, we play Texas Hold 'em and we welcome you to visit our store. You can find the Texas Poker Store at http://www.texaspokerstore.com, visit their blog at http://www.texaspokerstoreblog.com, and follow them on Twitter, FaceBook and on Pinterest.
Jim Paris
Chief Dealer
Texas Poker Store
302 N. Bryan Street
Bryan, Texas 77840
1-866-213-1594
979-595-7390