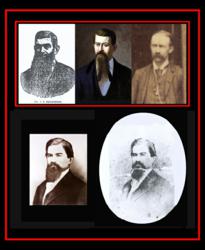 What is known as "Semi-historical augmentation" or "Semi-historical attachment" is all The Coca-Cola Co. has adopted for Pemberton's use.
Fairfield, ME (PRWEB) November 18, 2012
On November 30, 2012, Fairfield, Maine art auctioneer James D. Julia, Inc. will sell the original Coca-Cola founding legacy and only known vintage "1888 Asa G. Candler & Co." 19th-century photograph of Dr. John Pemberton, the celebrated inventor of Coca-Cola. Pemberton and Asa G. Candler, the Coca -Cola co-founder are seen in the photo, with Candler holding a of paper exhibiting a proud look on his face.
The creation of paintings by Wilbur Kurtz, Sr, based on the "1888 Asa G. Candler & Co." albumen and the 'Dr. Pemberton' portrait by Royal Stowell executed in the 1950's, subsequently caught the eye of some Pemberton family members in Georgia.
Concurrently, some photographic images purported to be of Pemberton had been found among holdings of the extended family linked to Charley Pemberton and by the early 1990's it is claimed that distant 'namesakes' to the Pemberton name (and not bloodline) contacted The Coca-Cola Company to assert that they did not feel the Stowell Pemberton likeness Coca-Cola was using was correct.
One of the images from the extended family is claimed to be a 'daguerreotype' of Pemberton, his wife and son Charley taken in 1857. It has been said that the Pemberton House in Columbus, Georgia claims the 'historical' Pemberton image Coca-Cola is using is a copper plate 'daguerreotype' as well. However,it is clearly a bent-in-half torn paper image purported to be of Pemberton, for which the original albumen has never been made public and likely lost.
Often, historical groups, lacking professional curators confuse 'daguerreotypes' with later 'Ambrotypes' on glass and also 'tintypes' on tin These formats are all found as cased images under glass, appearing the same. A centrifuge of confusion is furthered by an inability to confirm the photographic process used, like determining a paper albumen from a salt print, vis a vis from a daguerreotype. Other problems also exist.
Over-sized modern closely cropped late 20th-century silver-gelatin photo blow-up copies hang at the historic Pemberton House. Purported period originals are claimed by the Pemberton House, but to date is only hearsay.
The bent-in-half distressed 'Pemberton' portrait Coca-Cola unofficially uses today without trademark has been totally retouched and not 'The Real Thing.' .
Conversely, if the 19th-century albumen of the bent-in-half 'Pemberton' does exist, what period autograph inscription is on the back, if any - to authenticate the image is really that of Pemberton? An effort to match to known autographs / handwriting found in separate familial exemplar letters (if they exist), or courthouse deeds, would be best, but not yet conducted. Without this, the authentication links are forever severed. It must be tied to independent exemplars in the manner employed authenticating the Codex Lipack telegraph manuscript journal of Wm. Fothergill Cooke. Without this, the Pemberton likeness remains unfounded.
The extended family has no vested interest in Pemberton being corrected. This is clear, as none of their original artifacts have been analyzed by experts like the George Eastman House or Getty Museum, all taking into consideration various needed exemplars, again, if they even exist. Coca-Cola never mounted independent research before unofficially using the extended families unauthenticated Pemberton.
The extended family is beholden to a historical resurrection of Pemberton. They have no vested interest in either the 'myth' that Coca-Cola has created, nor any financial interest in seeing the revelation of who he really was on the day of April 14, 1888. The historical scene that appears to be taking place in the articulately staged photograph that is the "1888 Asa G. Candler & Co." albumen, is of no concern to Coca-Cola, the Pemberton House or the extended family.
The only vested interest is for all three parties to continue the myth, with the only financial benefit being Coca-Cola's.
Before Coca-Cola started to use the image, they retouched out the bends, tears and distressed areas, giving 'Pemberton' a face lift. Because the direct bloodline to Charley and Dr. Pemberton had been severed upon Charley's death, no direct clear title for the "rights of publicity" could ever be transferred from the extended family, which consists today of several unrelated and distant bloodlines in the form of cousins, half-cousins, great uncles and the like. Thus, The Coca-Cola Co. has no viable legal means of securing clear title to use the Pemberton likeness and name on printed cups, cans, sides of trucks, etc., or enable them to secure a "U.S. Registered Trademark" to use any likeness and name supplied by the extended Pemberton familial links, commercially.
What is known as "Semi-historical augmentation" or "Semi-historical attachment" is all The Coca-Cola Co. has adopted for Pemberton's use. Proposed reality is that Coca-Cola's Dr. Pemberton is definitely not "The Real Thing!" For a mega-billion dollar company, Coca-Cola certainly has made no effort to properly authenticate the original source of their Dr. Pemberton. Internal legal advisement apparently was given essentially for 'historical publicity with no sales in mind.'
"Lemon Orange E," a beverage named in the albumen on the pharmacy building window will likely attract modern venture capitalists. Pemberton is standing right next to his drink's name. This elixir, combined with Pemberton and Candler's earliest previously unknown images - will not have any trademark registration and distribution problems from the Atlanta cola giant!
"French Wine Coca," another Pemberton elixir name featured, could be highly suitable for distribution in France and through-out Europe as a wine, liquor or other fermented beverage like ChocoVine from Holland. The American Pemberton namesake and high resolution image shrewdly marketed on non-Coca-Cola bottle labels and in advertisements - could become a veritable craze!
If the "1888 Asa Griggs Candler & Co." photo and its 'high resolution rights' come to be owned by an outside venture capitalist group, a competitive soft drink company or outside private investor - and used commercially independent of the Coca-Cola advertise realm; this could actually change the course of the way the pop cola's image and credibility is perceived.
A new "Cola Wars" perhaps? Could this radically alter the stock, options and futures value of the company?
A delightful documentary movie is available for viewing at the James D. Julia, Inc., auction website found at; http://www.jamesdjulia.com/auctions/div_catalog_335_sh.asp
Other important links are as follows;
http://www.prweb.com/releases/2012/10/prweb10056746.htm
http://www.jamesdjulia.com
http://en.wikipedia.org/wiki/Coca-Cola
As a Coca-Cola collectible, the "1888 Asa. G. Candler & Co." photograph is the earliest known piece of Coca-Cola memorabilia extant. The Coca-Cola company museum in Atlanta does not possess a 19th-century original example of this historic albumen. With an estimated value of $50,000 to $75,000 set, the sale of the original only known "1888 Asa G. Candler & Co." photo is believed will finally set the record straight respective of the real Dr. Pemberton - once and for all!
(End of second of two parts)