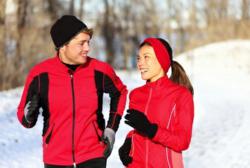 San Diego, CA (PRWEB) November 19, 2012
iDreamofU's dating blog, Dream Buzz, offers dating insights to help singles find the person of their dreams. Now that winter has arrived, Dream Buzz offers iDreamofU visitors and members five romantic indoor and outdoor winter date ideas along with five ways to maintain the best dating shape this holiday season.
There is a coinciding recommendation between the two Dream Buzz blogs. A seasonal date suggestion and a way to stay in dating shape is to remain active. When days get shorter and nights get longer, it's easy to become inactive. So how about trying a new sport or activity? Snow-shoeing, hot yoga, or a hip-hop class? Staying active keeps one warm during the chilly nights and feeling refreshed in the morning.
From staying conscious of calorie intake to taking a walk in the sun, free online social dating site IDOU wants to help potential daters avoid the pitfalls of any hibernation effects during dating's high season. As for seasonal date ideas, experimenting in the kitchen with recipes high in good carbs or taking on a do-it-yourself project that you find together on Pinterest can only lead to a good time. Winter can be a fun and date-friendly time of year without the addition of unwanted pounds.
About IDOU
IDOU is a new entrant into the free online dating market; a market that is estimated to be in excess of $1 billion. The core differentiating factor between IDOU and all other dating sites is that an IDOU site member builds a visual version of the person he or she would like to meet by selecting an ethnicity, a preferred facial structure along with eye, nose, mouth and hair shapes. Since visual attributes are only part of a member's created profile, responses to the more standard demographic and relationship questions also play a significant role in the matching algorithm.
There is also a non-dating component to the site. Anyone visiting the site can create a person's image just to experience the site.
Launched in April, 2012, IDOU provides an innovative, game-like, and first-in class approach to online social dating for 18-50 year olds in the United States. All services on IDOU are currently free. IDOU will focus on the use of its website and mobile application, as well as other planned applications, to create an online and social dating market niche.