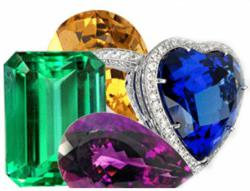 As good as it gets!
New York, NY (PRWEB) November 20, 2012
Paraiba International, the leading e-tailor and importer of fine gemstones, is slashing prices on its already affordable prices for a full 120 hours. It's the season's greatest opportunity to save on wedding, engagement and bridal jewelry as well as custom-design work for any occasion.
Paraiba International's "Black Friday" sale begins at 12 a.m. Eastern Time Wednesday (midnight Tuesday.) And the sale on Paraiba Tournaline, Rubellite, Tsavorite and Tanzanite gemstones will continue until midnight Monday.
Bargain hunters don't need to spoil their Thanksgiving holiday waiting in long shopping mall lines for the chance of snagging a limited-quantity deal. Paraiba offers guaranteed online savings that start before turkey-roasting time and last for five full days.
Complete Sale Details:
Paraiba International's Black Friday Sale begins at 12 a.m. ET on Wednesday, Nov. 21 and ends at 11:59 p.m. ET on Friday, Nov. 23.
Paraiba International's Cyber Monday Sale begins at 12 a.m. ET Saturday, Nov. 24 and ends at 11:59 p.m. ET on Monday, Nov. 26.
That's five full days of non-stop online savings on pendants, earrings, bracelets and other jewelry exquisitely crafted from a wide selection of beautiful gemstones, including Tanzanite Rings, Watermelon Tourmaline, Mandarin Garnet, Emerald, Fire Opal and Precious Topaz.
Other gemstones in Paraiba International's collection of stunning gemstones from around the world include Pink Tourmaline, Aquamarine, Green Tourmaline, Chrome Tourmaline, Red Spinel, Citrine, Peridot and Kunzite.
Certification and Guarantee:
All purchases made at Paraiba International, including loose gemstones and custom-designed jewelry, are backed with a 100% Money Back Guarantee. Every gemstone purchase also includes a complimentary Identification Report and Appraisal.
Gemstone experts are available by phone and online chat to answer questions about gemstone weight, size and quality as well as to help customers who seek Pairaba's exquisitely-designed custom jewelry.
Paraiba International's five-day Black Friday and Cyber Monday sale is the perfect opportunity to shop early and save big -- up to 50 percent off -- on Tanzanite gemstones and other fine gemstones and jewelry.
.