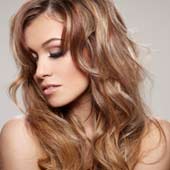 "The idea behind Blow Me Away Blow Dry Bar is simple," says Bruni. "Wash, dry, and style at a set cost. Choose any style for $35. Neat, straight-up, shaken, on the rocks – any style our clients desire is fast and affordable."
Laredo, TX (PRWEB) November 20, 2012
Beautiful hair makes a great impression, but often takes too much time to maintain. Women go about their busy lives in with hair pulled back, unstyled and inhibited. It's time ladies let their hair down and let the stylists at Blow Me Away Hair Salon bring out their natural beauty.
Blow Me Away Blow Dry Bar opens their doors in Laredo, TX on November 27. They offer a convenient wash, dry, and style that keeps clients looking and feeling great without missing a beat. No scissors, no dye – simply style.
Blow Me Away turns dream hairstyle into a daily reality. They host 8-chairs, making blowout style a fast, reliable, affordable service for people on the go. Pamper yourself with blowout packages offering an array of styles and services in just 40-minutes. Better yet, if time isn't ticking, treat yourself to a scalp massage or hair mask. VIP packages give discounts on style services and products. Complimentary beverage service brings an added level of enjoyment.
Big cities everywhere are seeing a developing trend in blow dry bars. People understand the importance of looking your best, but style takes time and money - luxuries many don't have. Rather than going to a full-scale, full-schedule, full-price salon, blow dry bars accommodate client's style needs, time constraints, and budgets.
Owner Lilia Bruni is a lady who loves style. Even more, she loves the convenience of someone else providing it. An experienced entrepreneur and style aficionado, Lilia discovered her first blow dry bar when living in Austin, TX. She appreciated the service and discovered a desire to start her own similar company. In time, Lilia made her way back to her hometown Laredo, and she is now opening her doors for clients to experience the same satisfaction.
"The idea behind Blow Me Away Blow Dry Bar is simple," says Bruni. "Wash, dry, and style at a set cost. Choose any style for $35. Neat, straight-up, shaken, on the rocks – any style our clients desire is fast and affordable."
Blow Me Away's stylists are experienced with all types of hair, and they are trained in the latest style trends. Whether clients want elegant or edgy, romantic or professional, Blow Me Away designs the look. Style comes to life in beautiful up-dos, flowing curls, bangs, bobs, and all other hairdo's clients envision.
Their Blow Dry Bar Menu offers beautiful hairstyles for everyday enjoyment and for special events. Weddings, birthdays, family photos, prom, parties, and date nights all call for designer hair. Job interviews, client meetings, and other professional endeavors are met with ease. When you look great, you feel great, allowing you to focus attention where it needs to be.
Treat yourself to blowout style at Blow Me Away's November 27 launch, and welcome their team to Laredo. Then, check back in December for their official grand opening, hosting festivities, food, and drink, as well as style specials for new clients.
Blow Me Away Hair Salon Laredo is located at 2715 E. Del Mar Blvd, Suite A2, Laredo, TX 78041. To learn more about the company and see their prices and packages, visit http://www.blowmeawaylaredo.com. or Call (956) 796-1200