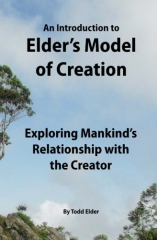 Encouraging Life explores reality and the meaning of life
Livingston, TX (PRWEB) November 22, 2012
Todd Elder is now offering the Encouraging Life seminar. This seminar is based on a creationist view of Scripture, science, and society which is summarized in his book 'An Introduction to Elder's Model of Creation'. Encouraging Life explores reality and the meaning of life by examining what is beneficial and harmful to life, gives peace, and promotes a closer relationship with the Creator.
The concepts found in An Introduction to Elder's Model of Creation weave together the scriptural, scientific, and social aspects of Creationism. This introductory volume explores mankind's relationship with the Creator with an emphasis on what it means to be a created being and have close relationship with the Creator. Topics include the Creator, His creation, the covenant relationship, salvation through the Messiah, and the battle with evil. It also includes personal testimony.
Todd Elder, a young earth creationist, is the founder and administrator of the Creation Science League and author of the League's Creation Science notebook. Elder also maintains the 'Exploring Creation' website. He holds a Bachelor of Science degree for a Conservation Major and a Geography Minor from Kent State University.