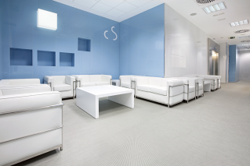 We're bringing these ideas to patients worldwide in the hopes that they will find relief and treatment within our walls. In contrast to countries where healthcare costs are high, we offer a cost-effective solution to major medical procedures."
Valencia, Spain (PRWEB) November 19, 2012
Corposalud Clinic has announced that it will now offer a superior healthcare solution to international patients seeking affordable alternatives for their surgical procedures.
Along with its ISO (International Organization of Standardization) certified partner hospitals, integrated clinical facilities and expert hospital care staff, Corposalud Clinic excels at providing an exceptional level of patient quality and service. This innovative health clinic is concentrated on design and minimalist architecture, with state-of-the-art medical diagnostic imaging technology and an experienced team approach.
"Our facilities and staff are known for their quality care and superior healthcare," said Diana Genovés, Director of Business Development at Corposalud Clinic. "We're bringing these ideas to patients worldwide in the hopes that they will find relief and treatment within our walls. In contrast to countries where healthcare costs are high, we offer a cost-effective solution to major medical procedures, like surgery."
International medical travel is becoming more and more commonplace, as patients seek low cost healthcare abroad. Facilities like Corposalud Clinic have been on the forefront of developing, applying and evaluating new technology in recent years, allowing them to offer comprehensive medical coverage for considerably less costs than other countries: up to 60-70% lower out of pocket expenses. This idea of "medical tourism" is also supported by the Clinic's streamlined processes, in which there are virtually no wait times and procedures are arranged to be performed almost immediately.
Corposalud Clinic is focused on specialty care, offering several medical specialties through safe and effective treatments. Urology, cardiovascular, spinal and orthopedic surgeries are all focus areas of the clinic, along with heart surgery and knee and hip replacements. Corposalud Clinic employs the expertise of world-renowned physicians, including several who currently serve as head physicians for the Spanish National Health Service.
Corposalud Clinic was founded with the vision of becoming an integrated healthcare delivery organization driven by innovation, quality, excellence, state-of-the-art technology and closeness of care.
To learn more about Corposalud Clinic, visit http://www.treatmentspain.com