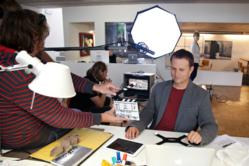 "Boomerang's greatest advantage is in its versatility" Uros Cadez XVIDA Founder
Los Angeles, CA (PRWEB) November 19, 2012
Uros Cadez, XVIDA CEO, unveiled 'Boomerang' with an outstanding Kickstarter video this month. It's been an exceptional success, even by Kickstarter terms. Here's how they did it.
"We spent a lot of time researching Kickstarter projects; it was obvious from what we saw - a good video makes a huge difference. So we really put our hearts into it, and our guiding principle was 'We want everyone to see how excited we are about this', we reckoned the idea was contagious. We were right, it's been great."
"It took us five days of filming, in two very different cities, London, in the United Kingdom, and Ljubljana in our home nation, Slovenia, just east of Germany."
"I've worked on the graphics side of the film industry for many years, so many of my close friends are professionals in the movie industry, but I never expected they were willing to put in long hours and even provide equipment without receiving any payment at all. I was completely blown away by their enthusiasm and commitment to the project."
"My first thought was that we should do something simple, but we're a bunch of perfectionists, simple didn't cut it with the team. We couldn't help ourselves, so we pushed the video concept quite a bit further from where we started."
"It would have been impossible to shoot the video without immense support from our close friends, family and colleagues. In the making of the video we got everyone involved from our friends, their kids and even their pets! The filming of was demanding on different levels, but we wanted to get everything right, to the highest standard."
"In the Kickstarter video we first had to present our signature project Boomerang; the first ever mount and stand in one product. Boomerang's characterized by a stylish, portable design so the video took shape around an explanation of the design process – it's a great visual theme and largely self-explanatory when you see it. What we did, was to present the design in a very personal, human and emotional way. Basically, we were showing what was going on inside our heads, months of preparation and excitement revealed in just three minutes."
"As a stand, Boomerang offers multiple, optional angles for viewing, typing and more, and as some of the online blog reviews remarked, "…the genius is in the magnetic interface." Boomerang is so easily convertible into a practical iPad mount system that we used this as the initial demonstration. From the outset of the video, we wanted the Kickstarter viewer 'to get it', to understand the concept immediately."
"Since Boomerang's greatest advantage is in its versatility we had to show five other mounting accessories in order to demonstrate how versatile Boomerang is. In a way, the video is an instruction manual. It really is a case of 'what you see is what you get'."
"Our whole process has been focused on a kind of natural conversation. We didn't want the video to show big ideas, pretense, we just wanted to convey that we were really excited about this product, it's something really useful and really beautiful," said Cadez.
Cadez came up with the idea to develop Boomerang while working in London as a computer graphics artist, creating visual effects for TV and the movie industry. Although he had the expertise to visualize and animate, the turning point was when he joined forces with Luka Stepan, a talented friend from the Royal College of Art's London Design School. Together, they began designing Boomerang.
Cadez remarked: "I wanted to step into my car and use iPad as a navigation device without having to constantly change all the mounts, cases, and adapters. I wanted to lose myself in a movie no matter how hard the workout at the gym. My guess was that many others loved the iPad, but not the need to constantly adapt it to its environment. Our research proved this and we advanced with our prototypes."
For the past 18 months Cadez has been working with a team of experienced young professionals, leaning on their detailed knowledge of consumer design, plastics, mechanical engineering and manufacturing to develop the perfect iPad companion.
Boomerang is the world's first all-in-one mount and stand, but Cadez plans to open-source one side of Boomerang's interface and in doing so enable others to develop and even sell their own mounts.
For additional information or photographs, contact:
Maja Andlovic, XVIDA Press Officer
Tel: 12036658756
Email: maja(at)xvida(dot)com
Web: http://www.xvida.com
Twitter: @myXvida
NOTES FOR EDITORS
The Products. The Team.
THE PRODUCTS:
Boomerang- the world's first all-in-one mount and stand for the iPad
Xvida, an innovative start-up company, is about to start raising funds for Boomerang on Kickstarter. Boomerang is the first ever all-in-one mount and stand for the iPad.
Boomerang is as a stylish, lightweight and slim iPad stand, enabling ergonomic typing and viewing angles. Combined with any of its mounting accessories, the iPad becomes a hands-free personal entertainment device on an airplane or in the gym, a navigation system for your car and a range of additional applications currently under development.
Boomerang attaches with perfect ease with various mounting accessories via magnetic interface. Boomerang is fully compatible with all iPads (except iPad1 and iPad mini).
In addition, Boomerang is also compatible with Smart Cover, so no need to carry a separate add-on. Boomerang offers a sleek combination of quality and simplicity.
THE TEAM
XVIDA is a European tech start-up, based in Los Angeles and Slovenia, dedicated to developing simple, elegant tablet computing mounting solutions. Boomerang enables users to do more with their favourite gadget. A talented team of experienced young professionals with detailed knowledge of consumer product design, plastics, mechanical engineering and manufacturing, combined under the umbrella of an online sales and marketing team.
Uros Cadez, Founder and CEO
Founder and CEO, Uros Cadez previously worked as a Senior Technical Director at 'The Mill' and The Moving Picture Company in London, United Kingdom.
Marko Cadez, Entrepreneur
Entrepreneur Marko Cadez, based in Los Angeles, has extensive expertise in online sales and marketing. He oversees anything web-related and helps with business decisions. He is also the owner of Best Travel Store.
Luka Stepan, Lead Designer
Luka Stepan is the creative artist behind award-winning Slovenian furniture and product designer Gigodesign. With a Masters' Degree in Design Products from the Royal College of Art, London, United Kingdom has a strong technical and practical design heritage.
Dejan Toman, Manufacturing Facility CEO
Dejan Toman is the CEO of the manufacturing plant that will produce The Boomerang. He has 20 years of experience in mechanical engineering and manufacturing and continues to successfully expand his family business.
/ Ends