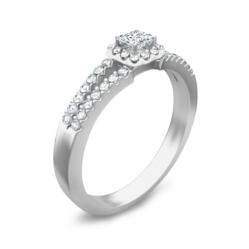 Finding matching promise rings for couples including promise rings for her is now very easy with the new collection
Baltimore, MD (PRWEB) November 19, 2012
Promise rings signify the commitment between a man and a woman. If a boyfriend gives his girlfriend a promise ring, it usually means he will love and devote himself to her for the rest of his life. This is very similar to an engagement ring or wedding ring, but it is more commonly used by younger couples. Promise rings are worn on the middle finger of the left hand, since the ring finger is reserved for marriage. Couples can now celebrate this thanksgiving day with JewelOcean's updated collection of cheap promise rings, starting from only $79 onwards.
Promise rings are more common among women; however, they are becoming increasingly popular among men, as well. JewelOcean has just recently introduced a brand new bundle of promise ring designs, proving to be very popular among customers. The promise rings are perfect for pre-engagement rings and customers are utilizing the many customization options available on JewelOcean.com. Couples can find a large collection of matching promise rings in the new collection on offer.
Styles vary from flower designs to heart shaped designs. The collection features promise rings made on white gold, yellow gold, and sterling silver with real diamonds. The collection is desgined for younger couples and hence it is very affordable priced. There are so many different options available on the company's website, that couples should be able to locate their dream matching promise rings for him and her. Customer satisfaction is guaranteed, which is why each purchase is backed with a 30 day refund policy, 24/7 customer service, and a certificate of authenticity.
The cheap promise rings feature centre stones such as citrine, diamond, ruby, sapphire, and more. There are the options of princess cut or round cut diamonds, made with either sterling silver or gold. The gold is 10k, 14k or 18k white, yellow or rose gold, which will please all types of women and men. Personalized messages can also be engraved on the promise rings, allowing couples to express their love through words. These words can be cherished forever, by both partners.
JewelOcean offers the lowest price guarantee, which means all of the prices for promise rings are reasonably low. The price range starts off at $79 and only goes as high as $700. This low price range is absolutely perfect for younger couples with low budgets, or even older couples looking to purchase matching rings. Layaway payment options are available for couples who cannot afford to spend all of the money at once and instead wish to delay the payments over a course of six months.
JewelOcean, a leading online jewelry provider, specializes in providing customers with the lowest priced, highest quality promise rings. The matching promise rings are all accompanied by a certificate of authenticity, allowing the customers to feel comfortable with their purchase. Questions about the payment options, customization options, and company policies can be answered by the 24/7 customer service team. It is because of this high service standard, JewelOcean has received thousands of positive customer reviews and ratings.