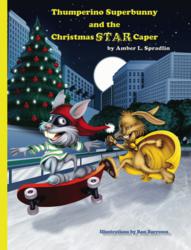 "…an enjoyable book for children and parents… I highly recommend it." - Pacific Book Review
New York, New York (PRWEB) November 20, 2012
"There is a new superhero in town - Thumperino Superbunny!" Thumperino Superbunny and the Christmas Star Caper, the second book a series by author Amber L. Spradlin chronicling the adventures of a house rabbit blessed with super-powers and a duty to make the world a better place, was just released for Christmas 2012 and has already reached number two in US sales.
Pacific Book Review heralds Thumperino as "…a kind and courageous character that shows just what a hero he really is…an enjoyable book for children and parents…a quaint story with emphasis on the basic lessons that children should learn like, deductive reasoning, determination, sharing, teamwork, sensitivity to the needs of others and acts of selflessness. I highly recommend it."
In this tale, Thumperino discovers that the star has been stolen from atop the tree in Christmas Tree Plaza. The holiday will be ruined for millions of children if the star isn't found in time for Christmas. He sets out on a mission to return this pinnacle of Christmas joy to New York City. Along the way, he uncovers a vile plot, rescues his fellow rabbits from an evil villain, and wins the trust of a special new friend. Most importantly, he learns a valuable lesson about overcoming physical challenges and stumbles upon strange new information about the source of his own super-powers.
Ms. Spradlin is the author and creator of the action hero series Thumperino Superbunny. Thumperino-Diary of a Superbunny, book one, was ranked Top 40 in US sales, spring 2011. At the same time, Thumperino made its European debut at the Bologna Children's Book Fair in Italy and was later nominated for The National Indie Excellence Award, The Writer's Digest Award, The Moonbeam Children's Book Award, and The Anne Izard Storyteller's Choice Award. Thumperino-Diary of a Superbunny has been accepted into the Library of Congress and was also selected into The National Library of Scotland. Ms. Spradlin regularly presents author visits at libraries around the country where she reads segments of her books. She is also a Partner with G & W Entertainment, producer of Operation Opera. Ms. Spradlin is a founding member of the theatre and dance production company Making Faces Productions, based in Los Angeles, and served as the first Production Manager for independent record label, Shark Meat Records, based in Miami. During her tenure with Sharkmeat, the label produced four albums and one novella, leading her to become a member of Grammy (NARAS – National Academy of Recording Arts and Sciences). She is a Graduate of the University of Washington School of Drama in Seattle, and was nominated for the Kennedy Center's Irene Ryan Acting award. Ms. Spradlin worked with legend Shahrukh Kahn in the record breaking Bollywood film Kal Ho Naa Ho; the first Bollywood film inducted into the Oscar Library at the Academy of Motion Picture Arts and Sciences. She originated the role of Cloey in Thom Koshonski's GLOOMMATES at the Festival of Fresh Faces in New York City, and has appeared in advertisements for the NBA (National Basketball Association), the World Wrestling Federation, and on Japanese television.
Thumperino Superbunny and the Christmas Star Caper is available to purchase in paperback from bookstores everywhere, including Barnes & Noble and Amazon. It can also be downloaded as an eBook for Nook and Kindle, or from the iBookstore.
Buy online now at http://www.barnesandnoble.com, http://www.amazon.com, or https://itunes.apple.com
For more information about Thumperino Superbunny and Amber L. Spradlin visit http://www.HocksOut.com
Follow Thumperino Superbunny on Twitter @ThumperinoSuper or search Thumperino Superbunny on Facebook.