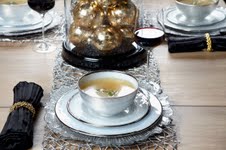 Start with a beautiful centerpiece and use it to make a statement"
LOS ANGELES, CA (PRWEB) November 19, 2012
Z Gallerie, a family-owned retailer of stylish home furnishings, is the perfect place to find exclusive accessories to add interest, elegance and individuality to any holiday table this season.
This year the company is highlighting dramatic presentations of single hues with additions of gold and silver. Metallic tones are important in design right now and are an easy way to add glimmer to your holiday table settings.
"We love a table that is layered with texture, color, and thematic interest for entertaining," said William Silveira, VP of Merchandising for Z Gallerie. "This time of the year is perfect for breaking from traditional table settings by adding decorative pieces that speak to the season."
Silveira suggests working from the center outwards when setting a holiday table. "Start with a beautiful centerpiece and use it to make a statement," he said. "The perfect piece for your setting could be purely decorative, like a tall floral arrangement in a unique vase. But I prefer a centerpiece to evoke the mood or theme of a table such as a bell jar filled with ornaments."
When function is more necessitated than form, his favorite item to use in tablescaping is Z Gallerie's three tiered stand which adds height and gives the hostess a practical place to put things. Other functional yet iconic serving pieces include trays, cake stands and appetizer sets which can work really well for sauces, nuts and candies.
"Many of our customers are looking for ways to freshen their current table settings," said Silveira. "An easy way to do that is to pick an interesting charger, napkin ring or runner which will add a new element to their traditional dinnerware."
Silveira recommends Z Gallerie's Spruzzo charger, Savor or Casse appetizer sets, gold nest runner and groupings of flameless ivory candles as top picks for the season.
About Z Gallerie
Founded by siblings Joe Zeiden, Carole Malfatti and Mike Zeiden in 1979, Z Gallerie began as a small poster shop in Sherman Oaks, CA. They operated the store during the day and framed posters at night in their parents' garage. Thirty-three years later, their stores now carry a full assortment of exclusive fashion forward home furnishings, including art and accessories - all at affordable prices. With 56 locations across the United States and an online presence at ZGallerie.com, Z Gallerie, still lead by Joe, Carole and Mike, continues to inspire all those who are excited by interior design. The company is headquartered in Los Angeles and has its buying office in Berkeley.
###