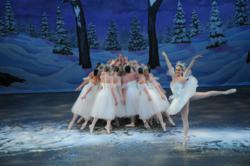 Roanoke, Va. (PRWEB) November 20, 2012
Relish the joy and traditions of the holiday season while nestled in the mountains of Virginia's Blue Ridge.
The Roanoke Valley offers a myriad of jolly events to keep holiday enthusiasts busy and eager to share good tidings. There are such staples as Fashion for Evergreens, Nov. 24-Jan. 1 at the Hotel Roanoke and Southwest Virginia Ballet's Nutcracker, Dec. 8 at the Roanoke Performing Arts Theatre, in addition to community parades, winery events and other spirited events. Also this year, the Roanoke Symphony Orchestra will present It's A Wonderful Life as a part of its Holiday Pops performances at the Salem Civic Center on Dec. 7.
Santa will give his reindeer a rest as he climbs aboard a train en route to the Link Museum for Santa by Rail, Dec. 1 in downtown Roanoke. Amid snowflakes and stars, and riding in a Norfolk Southern caboose, Jolly Old St. Nick is set to arrive at 5 p.m. In addition to mingling with Santa, participants can create ornaments and other crafts, decorate cookies, have their face painted and more.
Starting Dec. 7, the Star City will host its annual Suntrust Dickens of a Christmas holiday event in downtown Roanoke. Patrons can revel in the wintry wonder of the holidays with special happenings each Friday, 6 p.m-10 p.m., through Dec. 21. The City of Roanoke Tree Lighting will kick off events on Dec. 7, followed by Haley Toyota's City of Roanoke Parade on Dec. 14 and the SPCA Pet Costume Contest on Dec. 21.
Catch the Gingerbread Festival in Salem's Longwood Park and Ye Olde Salem Christmas in downtown Salem, from 11 a.m.-4 p.m. on Dec. 8. Brimming with the merriment of the season, both events will boast plenty of things to see and do for the entire family, including merchant open houses, carriage rides and Model-T car rides around downtown, children's activities at the Salem Library, and plenty of hot cider and roasted chestnuts to enjoy.
Just south of Roanoke, celebrate the holidays in Franklin County with Come Home to a Franklin County Christmas, Dec. 7 in downtown Rocky Mount. The magic of the season comes to life when the downtown streets close at 5 p.m. for the family-friendly festival, which will feature the county's "Biggest Little Parade," an array of food and craft vendors, music, dancing and more holiday fun.
Welcome 2013 with New Year's Eve celebrations Dec. 31 at Chatteau Morrisette Winery in Floyd, at Vinton's New Year's Eve Gala at the Vinton War Memorial or at the New Year's Eve Gala at the Natural Bridge Hotel & Conference Center.
For more information and a full event schedule, visit our website or mobile website at http://www.visitroanokeva.com visit the Roanoke Valley Visitor Information Center at 101 Shenandoah Avenue NE in Roanoke, or call (800) 635-5535.
2012 Holiday Events Calendar
Nov. 24-January 1 – Fashion for Evergreens, The Hotel Roanoke & Conference Center
Nov. 23- Dec. 23 – Fantasyland, History Museum of Western Virginia
Nov. 24 – Virginia Dare Flotilla for Toys Boat Parade, Smith Mountain Lake
Nov. 23-25, Nov. 30- Dec. 2, Dec. 1-2, Dec. 7-9, Dec. 14-16, Dec. 21-23 – Christmas Time's A Coming Open House, Peaks of Otter Winery in Bedford
Nov. 29- Dec. 1 – Scrooge by New Century Church, Roanoke Performing Arts Theater at the Roanoke Civic Center
Dec. 1 – Christmas Open House, The Little Gallery at Smith Mountain Lake at Bridgewater Plaza
Dec. 1 – Botetourt Christmas Parade in the Town of Fincastle
Dec. 1 – Santa by Rail, O. Winston Link Museum
Dec. 1 – Christmas Days in Ole Virginia, Booker T. Washington National Monument in Hardy
Dec. 1-2 – Old Southwest Parlor Tour, Old Southwest Neighborhood in Roanoke
Dec. 1-2, Dec. 8-9 – Holiday Open House, Chatteau Morrisette Winery & Restaurant in Floyd
Dec. 3 – Roanoke County Holiday Tree Lighting, Green Ridge Recreation Center
Dec. 6 – Vinton Christmas Parade, Downtown Vinton
Dec. 7 – Salem Christmas Parade, Main Street in Salem
Dec. 7 – Roanoke Holiday Tree Lighting at Dickens of a Christmas, Downtown Roanoke
Dec. 7 – Come Home to Franklin County Christmas, Rocky Mount
Dec. 7 – Holiday Pops: It's A Wonderful Life by Roanoke Symphony Orchestra, Salem Civic Center
Dec. 8 – Fincastle Historic Home Tour
Dec.8 – Gingerbread Festival, Longwood Park in Salem
Dec.8-9 – Southwest Virginia Ballet's The Nutcracker, Roanoke Performing Arts Theatre
Dec.8-9 – AmRhein's Wine Cellars' Holly Days, Bent Mountain Theater at the Roanoke Civic Center
Dec.14 – Roanoke Holiday Parade at Dickens of a Christmas, Downtown Roanoke
Dec. 15 – CHIP's Breakfast with Santa, The Hotel Roanoke & Conference Center
Dec. 21 – Pet Costume Contest at Dickens of a Christmas, Downtown Roanoke
Dec. 31 - Fincastle New Year's Eve Ringing of the Bells Celebration
Dec. 31 – New Year's Eve at Chatteau Morrisette - Floyd
Dec. 31 – New Year's Eve Gala - Natural Bridge Hotel & Conference Center
Dec. 31 – Vinton's New Year's Eve Gala - Vinton War Memorial