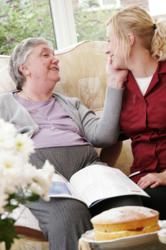 How you hire your first or 100th employee lays the foundation for your success or failure.
Jacksonville Beach, Florida (PRWEB) November 19, 2012
Donald J. Dymer, president and chief executive officer of SingleSource Services Corporation, a national background screening company, shares valuable strategies with the home health care industry to help them meet the demands of America's aging trends. Dymer asks the industry to look within their own organizations to trim waste and avoid risk as a way of extending their budgets and maintaining a high level of client service.
"Today there are almost 40 million people aged 65 or older living in the United States, that number is expected to nearly double by 2030. Referred to as "baby boomers" they continue to age and live longer, and the need for skilled, at home care represents significant opportunities for home health care agencies to flourish." points out Dymer.
"There is another dynamic also in play," explains Dymer, "people today are no longer automatically retiring at age 65, but continue to work well into their 70s. This same group often finds themselves as the primary care giver to their aging parents and seeks to delay placing their parents into a nursing home for as long as possible, if at all."
Dymer continues, "All of this adds up to a strong case for the home health care industry to step up to the plate and execute policies that will allow them to deliver valuable services effectively to the housebound, as well as to the family caregivers desperately in need of affordable skilled nursing and companionship services.Those home health care agencies that stay committed to thoroughly and extensively screening all of their staff will be in the best position to succeed. A recent issue of Caring magazine points out the growing use of technology as a means of increasing services to the home health care client. PDAs, smart phones and other technology will provide the home health care provider with the right tools to give patients the care they need and at the same time provide the agencies with methods of effectively supervising their staff in the field. Utilizing these technologies requires finding the right people for the job, people committed to their work and to the training required."
Dymer offers important advice to agencies large and small to succeed in this highly competitive and challenged industry. First: Recognize and accept the fact that you are in a very competitive yet lucrative marketplace. Business is business, and there is only one reason to be in business – profit. The success of the business will depend hugely on the business name – it's reputation. "One bad apple will sour the whole barrel I guarantee!" says Dymer
How you hire your first or 100th employee lays the foundation for your success or failure. How you continue to monitor and review those employees will determine your future success and reputation. Remember it's all about people – employees and clients.
Home health care providers need to adopt sound business practices. Begin with a business plan and an organizational chart of where you will be in one and three years. Follow the classic adage "Plan the work, work the plan".
The nurse or companion is your most valuable asset. Yet, don't underestimate the importance of your in-house administrators. That person or persons who will handle billing, insurance claims and follow-up is the vital link. Problems here can cause not just embarrassment or inconvenience, but in the worst case scenario can place your agency in direct conflict with important compliance matters caused by clerical errors, or worse, a deliberate act of fraud.
Hiring mistakes can destroy your home health care agency in an instant. You need a clear, well defined background checking policy that complies with state and federal regulations, and since many states requirements for background checks are weak, assistance should be sought from a professional background screening company with experience in your industry as to what else should be done.. Determine who will hold the primary responsibility for interviewing and ensuring that the credentials and licenses have been verified for all applicants – no exceptions! SingleSource has provided background screening services to home health care agencies for over a decade and has helped franchises develop and install their programs protecting franchisees and their corporate entity and good name..
From skilled nursing to companions, SingleSource's trained employee background screening specialist conduct careful state to state, county to county criminal background checks. These specialists are alert to red flags in an applicant's resume or application so that the Home Health Care Agency owner or franchisee won't be blindsided by an oversight in the background screening process.
Whether you have been in the home health care business for years or just starting,
Dymer urges you to ask yourself these important questions: ● Are your hiring practices standardized for all levels of employees and do you have a written screening policy? ● Do you understand how Federal EEOC and FCRA laws and rules, and your local state rules affect your organization? ● Are you current with new laws and changes? Right now, could you explain what changes will take place in 2013 affecting your industry? ● When is the last time you looked at your insurance policies? Are all of your employees compliant? ● Do you survey your clients to understand why they use you instead of the competition? If you lose a client do you conduct an interview to find out why? ● Do you seek a testimonial from your clients? ● Do you have a crisis management program in place? If you receive a complaint about a caregiver, is there a written policy in place that lays out the immediate steps to take and the follow up that is needed?
Dymer emphasizes, "Providing home health care is a business, serious business. Technology will never replace people in your industry. Qualified home health care providers whose credentials include integrity and character, backed by verified references, licenses and training, are the backbone to this growing industry."
Is your home health care agency safe from allegations of substandard care, neglect or worse elder abuse? The National Association for Home Care and Hospice reports that home health care providers log on nearly 5 billion miles each year caring for nearly 12 million elderly the disabled. When is the last time you ran a motor vehicle check on your existing staff? How sure are you that you don't have someone with a suspended driving license behind the wheel serving your clients?
SingleSource has the answers. Nearly 2500 companies and non profits across the nation rely on us for our expertise and have since 1995. Please call SingleSource today and review your background screening programs. Call SingleSource at 1.800.713.3412 or visit us at http://www.SingleSourceServices.com.
Sources: U.S. Census Bureau; Caring Magazine, October 2012; Aging Trends by Anthony Cirillo, Gail Lohman, Visiting Angels franchisee and member, CAHSAH.