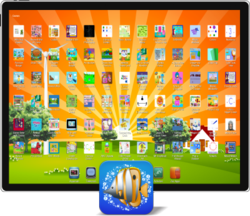 The day that he discovered Zac Browser was like a miracle! Seriously! He would play at the computer normally, by himself and for once without getting frustrated… he was so happy. ~Isabelle Poitras
Las Vegas, NV (PRWEB) November 21, 2012
The designers of Zac Browser have recently released Zac Browser Gold, an updated version of the original software with added functionality. This amazing free software provides the perfect virtual playground for children with autism. It has proven to keep them engaged to make learning fun without the usual frustrations, confusions and tantrums that these children experience. It also allows them the freedom to surf the Internet without the parents having to worry about visiting the wrong sites.
Zac Browser is the first web browser developed specifically for children with autism and autism spectrum disorders. It has been installed over 3 million times and has provided enjoyment, enrichment, and freedom for many children and families affected by autism. Zac Browser offers a place where children can interact with a myriad of games and activities appropriate for children with autism.
"I just wanna say…Thanks to Zac Browser our son is learning and actually trying to READ!! I have worked with him relentlessly for 3 years, getting 0 results I might add...but we discovered the Browser and now he really tries to read. He won't learn from people teachers/therapists/me, but he seriously is learning a lot from the Browser. I just had to tell you." says Nichole Wilson, Sioux Falls, South Dakota
The newer version, Zac Browser Gold, was built from the ground up and offers more than 25,000 videos, more sites, and an admin section. It is also compatible with Mac, PC, Android (December) and iPad (December). Zac Browser Gold offers an abundance of games and other activities that lead to nonstop entertainment and learning for children with autism.
To learn more about and download this profoundly amazing resource, visit ZacBrowser.com.