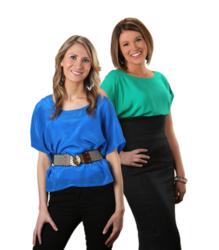 Boise, ID (PRWEB) November 20, 2012
The lure of deep discounts, giveaways and limited time offers make it difficult to shop sensibly on Black Friday and Cyber Monday, but frugal living and family finance experts Joanie Demer and Heather Wheeler of TheKrazyCouponLady.com have tips to save money and make the most of the holiday sales that kick off the shopping season.
The most important message? Make a game plan. Don't venture out to the stores without knowing what to buy, where to buy it and how much to spend. Online shoppers should have a similar plan to reduce valuable time lost in an abyss of endless web deals.
On Black Friday:

Make a game plan. Check flyers, circulars and online ads in advance to learn which stores have the best deals and how much to expect to spend.
Make a list. Map out where to go and what to buy at each store. The list helps reduce the amount of time spent in each store (less aimless wandering), and that's a bonus when fighting crowds. Heads up: Stick to the list. Don't get tempted by impulse buys.
Competitive edge. On the Wednesday before Thanksgiving, visit the stores that are on the to-do list on Black Friday. Find the items that will be purchased on Friday and map their location. That way, in the rush, it will be easier to quickly find those items and make a purchase.
Watch start dates. Some sales start before Black Friday. Take advantage of those early offers to avoid the crowds later.
Prioritize. Get the most expensive items first when shopping Black Friday sales. The most expensive items are typically the first to sell out.
Online help. Spend a few minutes at TheKrazyCouponLady.com before heading to the store to get expert advice and a heads up on hot sales and deals.
Amp it up with apps. The following apps make it easier to find bargains without too much legwork:

Salelocator.com finds all the sales in a shopper's specific area
RedLaser.com compares in-store prices
Slice.com tracks online purchases
Shopkick.com gives store rewards
BlackFriday (tgiblackfriday.com) pulls all published store sales and lists them by store or by categories (i.e. books, CDs, toys)
Other shopping tips

Get a voucher and go! Stores give out vouchers for most big ticket items (televisions, computers, etc.) to the first qualifying individuals in line.
Avoid the Store. Skip the crowds and shop online at sites like SwagBucks (swagbucks.com), eBates (ebates.com) and ShopatHome (shopathome.come) to earn cash back and points for purchases.
Don't pay full price for magazine subscriptions and gift cards. Magazine subscriptions, restaurant gift cards and other retail gift cards can all be purchased at a discount online. Visit TheKrazyCouponLady.com for links to trusted sites offering the best deals. For example, KCL often features $25 Restaurant.com gift cards for just $2. Gift card exchange sites such as Cardpool, Gift Card Granny, Gift Cards.com, and Plastic Jungle all offer popular gift cards for discounted prices (For example: a gift card to Build-A-Bear Workshop valued at $101.52 for $80.20).
Cyber Monday:

Look for the "S" for security. Always make sure sites are secure and have "https:" in the URL of the page that asks for credit card information. The "s" ensures security. Another sign of security: A locked padlock icon on the address bar or on the bottom right corner of the webpage.
Always keep security software updated. Security software companies work hard to stay one step ahead of the bad guys. Download anti-virus software from AVG for free, along with the AVG LinkScanner to detect a bad page before it's too late.
Be sure to keep personal information private. Create a separate email account that is just for shopping and don't affiliate it with a personal email account. Don't use the same passwords for multiple sites.
Use a credit card instead of a debit card. Credit card purchases are protected by the Fair Credit Billing Act. This law allows shoppers to dispute charges under certain circumstances and temporarily withhold payment while the creditor investigates them.
By following the tips above shoppers can save 50 percent or more on holiday gifts. To find the latest coupons and sales, along with other frugal living tips, visit TheKrazyCouponlady.com.