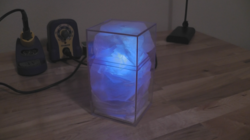 Albuquerque, NM (PRWEB) November 19, 2012
PhantomLink.com has released a new webpage, along with several photos and videos, demonstrating how its PhantomLink Wi-Fi security device can be modified to create a Wi-Fi connected multicolor light display. The PhantomLink light display can generate any number of colors and patterns, and is controlled wirelessly over a Wi-Fi connection.
The display is driven by control software that runs on any Wi-Fi enabled computer. The software is able to drive multiple PhantomLink lights, generate numerous effects, as well as provide a sophisticated sequencing environment that can synchronize various PhantomLink lights to a music source. These capabilities make it ideal for creating a fully customizable light show that can distributed throughout a room.
A complete set of instructions, along with a free download of the control software, will be released early next month. A sneak preview of this exciting new capability is now currently available on the PhantomLink website. Visit http://www.phantomlink.com/lab/light.aspx to see demonstration videos showing the system in action.
PhantomLink.com provides do-it-yourself remote security monitoring solutions. PhantomLink.com was developed by and is operated by Phantom Data Services, LLC, a New Mexico limited liability company specializing in advanced website development and web-enabled technologies.