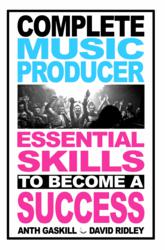 "Part motivational book and part 'technical manual'… dive in 100% and success may just be that bit closer."
Rated 9/10 - Future Music Magazine
(PRWEB UK) 20 November 2012
If today anyone can make, share and sell their music for almost zero cost, then how do you make your music rise above the noise and reach for success?
The book 'Complete Music Producer – Essential Skills to Become a Success' reveals the secrets of music industry experts and 'sets the foundation for musical success' (PRS for Music, 2012). It features in-depth information on goal setting, branding, marketing, and advanced production skills – all of which is augmented by exclusive insights from A-list music producers.
Complete Music Producer is essential reading material for all EDM producers who want to take their music to the next level. It has been endorsed by PRS for Music and is fast becoming a recommended text at prestigious institutes around the world, including Leeds College of Music. This book is the real deal. Here are some of the plaudits it has earned from its readers so far.
"A unique and original package aimed at making you a success. Part motivational book and part 'technical manual'… dive in 100% and success may just be that bit closer."
Rated 9/10 - Future Music Magazine
"Just bought the eBook yesterday, almost 10 chapters into it and can't put it down. This has been something I've been looking for!"
John Jenson
"Yes, the book is amazing. :) It's exactly what I have been looking for."
PJ Gibbs
Complete Music Producer (CMP) provides the blueprint for success in the music industry.
OUT NOW – BUY THE BOOK ONLINE
CMP eBook at £25
CMP Paperback at £29.95
For more information:
e: hello(at)completemusicproducer(dot)com
t: 07729973206.
w: http://www.completemusicproducer.com