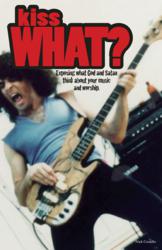 Kiss What? helps teenagers to answer two questions. Who has your heart? Who has your worship?
(PRWEB) November 20, 2012
Based on his 20 years experience working with Christian teenagers, Nick has concluded many are compromising with God in their relationship with Him. Too many are walking away from their faith completely or reflecting a poor Christian witness. Parents and youth leaders are deeply concerned and asking the question, why?
Many voices scream at teenagers fighting for their attention. The loudest voice speaking into their easily influenced hearts and minds is their music. What is it saying to them? Much of it expresses or promotes destructive, deceptive, unhealthy and ungodly messages. Their good Christian character and witness deteriorates as they spend time filling their hearts and minds with music that can negatively shape their values, beliefs, attitudes and lifestyles. Our world lacks enough godly role models for them to follow in learning how to live a godly life, resist peer pressure, grow in their faith and stand strong against persecution.
KISS WHAT? Exposing What God And Satan Think About Your Music And Worship, isn't just another book about music and lyrics. It follows the lives of three young champion worshipers of God, Shadrach, Meshach and Abednego. They model to Christian teenagers what a true worshiper of Jesus should be like. They'll learn how to handle peer pressure, persecution, trust God and much more.
Every teenager needs to read this book! It's a valuable teaching tool to help youth leaders and parents help teenagers to grow spiritually and live life as a worshiper of Jesus. What Nick shares in KISS WHAT? is a result of what he's learned in his own spiritual journey.
Prior to his conversion to Christ, Nick Costello spent 25 years in the secular music industry as a successful rock star. He knows from firsthand experience, the power of music to capture the attention of a teenager, and its ability to influence a young heart and mind. Once God opened his eyes to the truth about his music, Nick was able to see how deeply his love for secular music grieved God's heart. "After wrestling with God about it all, I chose to destroy all my ungodly music. I got my music listening habits and other areas of my life right with God, bringing honor and glory to Him," he explains.
Nick is founder of Nick Costello Evangelistic Ministries, a graduate of The Billy Graham North American Institute For Emerging Evangelists, an evangelist, youth communicator, popular seminar, conference speaker, radio talk show guest and worship leader. View a book trailer and learn more about Nick at http://www.nickcostello.org