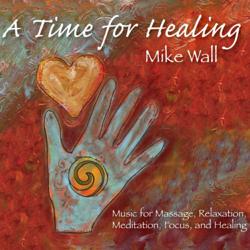 I composed this music with the intention of creating peace, calm, and a place of deep healing for the listener.
Seattle, WA (PRWEB) November 27, 2012
Healers, therapists, meditation and yoga practitioners can create peace and relaxation with a new album from musician and massage therapist, Mike Wall http://www.mikewallmusic.com. "A Time for Healing," now available on iTunes and Amazon, combines Native American flutes, Tibetan singing bowls, guitars, drones, and world instruments with nature sounds in an hour-long set of 10 compositions.
Composed over several years through many, sometimes tumultuous, changes in the artist's life, "A Time for Healing" flows unobtrusively from track to track, often with nature sounds or drones tying the thematically-linked pieces. Melodies are unhurried and evolving with Native American flutes, gentle guitars, strings, violin, piano, duduk, bansuri, and more. They complement evolving drones, including antique Tibetan bowls, tambura, didgeridoo, strings, and organic keyboard sounds. Gentle background nature sounds evoke a sense of space and place in this music for healing.
New Age composer Mike Wall plays, engineers, and produces his music. He also records the nature sounds, primarily around his home in the Pacific Northwest. In addition, Wall is a massage therapist at Bothell Integrated Health http://www.bothellintegratedhealth.com. Wall says of the clinic: "It is the perfect positive and supportive environment, where healing takes place daily. It provides regular infusions of inspiration."
"I composed this music for massage with the intention of creating peace, calm, and a place of deep healing for the listener," says Wall. "I used sound healing principals along with cadence, space, instrumentation, tones, intervals, and timbres that are completely supportive of that intention. The nature sounds were carefully selected to make sense in the context of the music. While composing, I often improvised along with the natural recordings. Throughout the developmental process I consulted with many therapists and their clients and received valuable feedback on the music and how it enhanced their sessions."
Before focusing on healing through music and massage therapy Wall had a successful career in technology as an engineer and manager. "I was no stranger to overwork and high stress. These experiences inform my approach to help others heal. I work on my own issues and self-healing in the creative process, so I get to be the first tester."
Wall describes his influences as eclectic – "I grew up listening to many styles of music. Little bits of progressive rock, world fusion, psychedelic, Native American flute, Tuvan throat singing, and Indian classical music are part of these compositions, but slowed down to gently support the healing intention." High-quality samples of Wall's new music and much more information can be found at http://www.mikewallmusic.com/album/a-time-for-healing.
About Mike Wall
Mike Wall is an accomplished composer, musician, and producer committed to personal and planetary transformation. His primary tools are sounds and music. He is also a Licensed Massage Therapist that works closely with healers and therapists of various modalities to create music perfectly designed to meet their needs and the needs of their clients. Mike has experimented with sound and music his entire life. In the last decade he has focused on creating healing music inspired by the natural world and ancient musical and ritual sounds. His first solo release "Passage" was nominated for Best Ambient album in the 2007 New Age Reporter Lifestyle Music Awards, and charted #11 on the NAR charts. Mike's music can be heard on Pandora, Music Choice's Soundscapes, Sirius/XM radio, Echoes, and other streaming sources. He has produced over 30 successful nature sound and new age compilation projects. He performs live in the Seattle area and at various trade shows and was recently interviewed on KUOW, Seattle's NPR affiliate.
In 2009 Mike attended the Cortiva Massage School in Seattle. He is now practicing massage therapy integrating orthopedic, structural, and wellness massage with client empowerment and self-care. "I am so fortunate to be of service in this nurturing community. It's taken me a while to figure this out but I have found my life purpose. Combining my passions for helping others through bodywork, healing music, and nature sound recording is truly a dream realized."