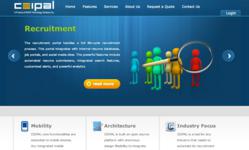 CEIPAL is an enterprise and human resource management portal with an incredibly simple design and interface to increase workforce productivity
Rochester, NY (PRWEB) November 28, 2012
Avani Technology Solutions Inc., is developing a web based and enterprise portal (CEIPAL) for professional service firms to manage their employee information, customer information, vendor information, end-to-end recruitment, payroll data extraction, timesheet management, help desk and many other features. CEIPAL is a SaaS (Software as a Service) based delivery model that simplifies human resource management functions at a low cost.
CEIPAL is designed to assist the professional services industry by allowing companies to manage information about vendors, employees, and customers through one enterprise portal. CEIPAL provides services to assist with recruitment, payroll data extraction, timesheet management, and it also includes a help desk feature. The web-based enterprise portal also utilizes mobile technology, where users can manage and administer their account using iOS and Android devices.
With its extraordinary mobile functionality, CEIPAL allows employees to save and submit timesheet approvals in PDF format to payroll using their smartphone cameras. This capability limits the need for employees to keep track of paper work and other information. With CEIPAL's efficient mobile functionality, employees can check past timesheets, check approval statuses, and track hours from their mobile devices.
In addition to the portal's ability to streamline efficiency with mobile technology, CEIPAL's recruitment module is useful in tracking job candidates, helping to organize qualified individual's profiles, recording interview feedbacks, and keeping specified files for future requirements or references. The recruitment tool also helps post job requirements to social media sites, allowing the user to track responses and organize acquired information in the module.
Because of the multitude of key modules provided, CEIPAL is unique in its practicality with its capability to allow companies to consolidate multiple business procedures into one enterprise portal. For large or small consulting and staffing firms, the portal will allow the company to focus on core business development while CEIPAL automates most of the key functions necessary to operate a business.
About Avani Technology Solutions
Avani Technology Solutions brings over 60 years of cumulative experience in managing large scale IT engagements in the USA. Focused areas of service include SAP, Microsoft.NET/SharePoint, web commerce, database management, software testing, and project management consulting.
Contact Avani Technology Solutions
To inquire about the services provided, please call (585) 584-1313, e-mail ceipal(at)avanitechsolutions(dot)com, or visit http://www.ceipal.com for further information.