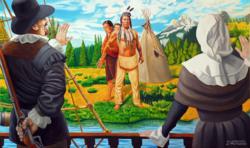 "We should all be thankful the Natives Americans didn't insist on the pilgrims providing documentation because most of us wouldn't be here today."
NY, NY (PRWEB) November 19, 2012
Just in time for Thanksgiving, artist Michael D'Antuono has released his latest painting titled "Illegal Immigration". The seemingly commemorative piece depicts the pilgrims smiling and waving from their ship to an apprehensive Native American couple as they reach shore. Initially, the art appears to be something from a textbook or holiday card. On closer inspection you notice hidden in the shadows, the pilgrim's musket tucked behind his back in antithetical contrast to his friendly face. Then you read the title and you realize that the piece is actually a reminder of our own dubious history that illuminates the hypocrisy of self-righteous attitudes towards current immigrants. Suddenly that turkey doesn't taste so good.
Besides the Thanksgiving connection, the timing of this piece is excellent. The recent election highlighted the significance of the country's changing demographics, moving the issue of comprehensive immigration reform to the forefront. As the painting winds its way through the web, pro-immigration groups and immigrants everywhere are sure to pass this image around like yams. When pressed for his stance on immigration D'Antuono simply remarked "All I am suggesting is that we should all be thankful the Natives Americans didn't insist on the pilgrims providing documentation because most of us wouldn't be here today."
"Illegal Immigration" isn't the first painting by D'Antuono's to invite people to think more deeply about serious issues and inspire them to improve socio-political conditions. He created somewhat of a media firestorm with his enigmatic depiction of President Obama being crucified in front of the Presidential seal entitled "The Truth" which questioned the objectivity of our political views distorted through our own partisan lens. His painting inspired by the Trayvon Martin case "A Tale Of Two Hoodies" shed light on the deep-rooted racism still with us today.
You can read D'Antuono's companion piece blog about immigration on his websites blog page.
All press Inquiries go to: info(at)ArtandResponse(dot)com