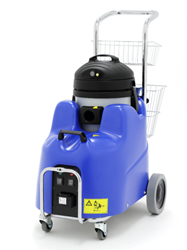 "Daimer® is excited to offer the KleenJet® Supreme 3000CV with Non-Stop Steam™, a powerful vapor steam cleaning machine perfect for use as steam car wash equipment. Car detailing pros have been waiting for our technology."
Woburn, MA (PRWEB) November 18, 2012
Daimer Industries, Inc.®, the world's leading American brand of steam cleaners, vapor systems, portable steam car wash machines, and other technologies with hundreds of different versions sold to customers within 200 nations globally, is now marketing a truly Eco-friendly solution as the best car wash equipment for auto detailing professionals and car detailers.
Daimer® is committed to American workers and to help keep jobs in the United States. The company is proud 100% of its employees and management are Americans.
The company's KleenJet® Supreme 3000CV with Daimer®'s exclusive Non-Stop Steam™ solves the chronic problem associated with other brands' models' steam pressure that drops quickly. Daimer®'s powerful system offers pressure levels up to 115 psi and temperatures up to 364°F. Vapor steam flow runs at high pressure levels all day, and all without the use of any fuels like diesel oil, which pollutes the air and erodes the ozone layer. The system includes relatively inexpensive patented, removable heating elements, which can save up to $800.00 or more for a complete boiler replacement for other vapor machines on the market.
"Professional car cleaning demands extra time and effort to make customer's cars look like new. Many in the car detailing business face challenges of trying to clean cars quickly, but without water hitting the ground and no proper drainage or containment," says Matthew Baratta, spokesperson of Daimer Industries, Inc.®. "Daimer® is excited to offer the KleenJet® Supreme 3000CV with Non-Stop Steam™, a powerful vapor steam cleaning machine perfect for use as steam car wash equipment. Car detailing pros have been waiting for our technology."
The KleenJet® Supreme 3000CV is an advanced version of other brands of steam cleaners and are absolutely not considered portable car wash pressure washing equipment, which creates more water than many professional can use. Mobile detailing people often find it impossible to carry a large water tank and pressure washer, since many use smaller vehicles that will not accommodate all the equipment. Most car washing operators prefer to avoid the use of fossil fuels like diesel and other oils that contribute to the Greenhouse Effect.
The machine is best car wash equipment designed to clean cars that do not contain heavy dirt, mud, and other build-up that would otherwise require wet steam pressure washers. The steam machine is excellent to clean cars in place within car dealership showrooms. They do not need to power wash the car to clean off dust, dirt, and other airborne particles that may accumulate on the cars.
Importantly, many, but not all, within the auto detailing business are actually performing mobile car cleaning and are cannot let water runoff flow down storm drains. The U.S. Environmental Protection Agency (EPA) and other similar agencies around the world impose stiff fines to those who violate their rules. The Supreme 3000CV, without water runoff, combines the higher steam temperatures that conventional steam cleaners are incapable of producing or maintaining with higher pressure levels for relatively dry car washing. The vapor contains merely about 5% water.
Surveys show that 3/4 of the time needed to maintain a car is spent on cleaning the exterior surfaces. Almost 80 percent of auto detailing professionals claim that they regularly resort to harsh chemicals and rigorous scrubbing to eliminate tough deposits from glass surfaces. Although the car cleaning experts are aware, in most cases, that excessive scrubbing and certain chemicals can damage vehicle exteriors, often times the method is the only one they have known and implemented.
Daimer®'s KleenJet® Supreme 3000CV can be used to clean brake dust off wheels, windows, windshields, interior hard surfaces like door jambs, leather, vinyl, dashboard areas, inside door panels, and more. The system comes bundled with over 36 parts and accessories to allow it to be used as a steam vacuum cleaner for tile and grout cleaning and a hosting of cleaning applications. In fact, Daimer® offers more and varied accessories than any other steam cleaner provider in the world.
For Additional Information:
Visit Daimer®'s website or call Matthew Baratta at (888) 507-2220 for more details about the KleenJet® Supreme 3000CV. These machines are exported to most countries worldwide.
About Daimer Industries, Inc.®:
Daimer Industries, Inc.® is the leading supplier of world-class cleaning equipment including 600 models of steam car wash machines, car pressure washer equipment , steam cleaning machines, pressure wash systems, carpet cleaning systems, and floor cleaner systems designed for a range of applications and industries.