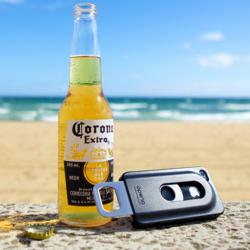 "this Christmas the more unique accessories are sure to be a big hit as it's now possible to match these gifts to the lucky recipients personality" says Rob Ward from Annex Products
(PRWEB) November 20, 2012
Opena - iPhone Bottle Opener
The Opena case is the perfect present for that annoying person that already has everything. The Opena features a slide out bottle opener neatly enclosed in a protective hard case. The Opena is fun and functional while providing excellent protection and a great conversation starter. Sure to be a big hit at parties over the holiday season.
Price: $39.95
Color: Black and White
Model: iPhone4 and iPhone5
Available: http://www.openacase.com
Holda - iPhone Wallet Case
The Holda™ case makes a great stocking filler for friends and family that like to travel light. The Holda™ allows one to leave their wallet/purse at home while keeping their cards, cash and even a house key safe in the back of their iPhone.
Price: $34.95
Color: Black, White and Pink
Model: iPhone4 and iPhone5 (coming soon)
Available: http://www.annexproducts.com
Quad Lock - iPhone Bike Mount
The Quad Lock Bike mount is an awesome present for both the serious cyclist and daily commuter. The Quad Lock iPhone bike mount allows the user to quickly and securely attach their iPhone to be used as a speedo or GPS while riding. The advantage of the Quad Lock system over other mounts is that when disconnected from the bike the Quad Lock case still offers great protection during day to day use.
Price: $69.95
Color: Black/blue
Model: iPhone4 and iPhone5 (coming soon)
Available: http://www.quadlockcase.com
Quad Lock - iPhone Tripod Adaptor
Everyone knows someone that's always uploading iPhone pictures to either Facebook or Instagram. For this person the Quad Lock Tripod Adaptor might just be the perfect present. With Tripod Adaptor an iPhone can be securely mounted to any standard tripod with a simple twist. Works great for video, low light and even with time-lapse or panorama photo apps.
Price: $19.95 (requires Quad lock iPhone Case)
Color: Black
Model: Suites any Quad Lock Case
Available: http://www.quadlockcase.com
Images: http://www.flickr.com/photos/openacase
About Annex Products Pty Ltd
Annex Products is an Australian company that creates unique, functional accessories for mobile technology. Annex® is focused on creating innovative products that provide Functional Protection™ for mobile technology and prides itself on designing high quality products and manufacturing them from the best materials available.