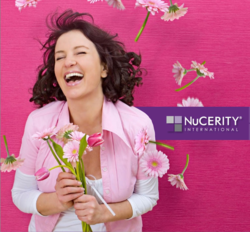 Laura Emmons "I started mine last night, did one side of my face out of interest, wished i hadn't, one side bag and wrinkle free this morning, it was like me 10 years ago, but just one side. So its all over tonight! !"
(PRWEB) November 20, 2012
NuCerity provide proprietary, unique and proven products, leading-edge business systems and tools, as well as unparalleled coaching, mentoring and support for our global team member's journey toward self empowerment, financial independence and significance in their lives.
Whether you'd like to supplement your current income, replace it altogether or build a strong, lasting business platform, NuCerity offers a unique home-based business opportunity that can exceed your dreams and expectations.
Testimonial from a Nucerity Distributor!
"Over a year ago I decided to take on another business. I've been in the financial industry for years. Both as an employee and now owning my own business as a mortgage broker. As an employee in the financial industry I learned that my job was never guaranteed and I soon found that out after loosing two of them in a 5 year period, I decided I should work for myself, very different and it is hard work starting something from scratch but I pushed forward, and created a successful business. Working for yourself has so many perks but also comes with its challenges and stresses. This is a very transactional based business.. if you don't have deals closing, you don't have money coming in. I thought to myself there has got to be another way to earn income without having to rely on "transactions". Don't get me wrong I really enjoy what I do but I wanted to have something else that would build a long lasting financial platform that will continue to pay me regardless of the economy or amount of deals I have closing. So entered the NUCERITY opportunity Welcome to NuCerity . The more I learned about this business, the more I thought crap I should have done this along time ago.. Where else can you build a business part time (part time magic i call it) and earn weekly cheques continually. Not to mention that I have met the most amazing, inspiring, positive people and we have FUN doing what we do. This is not some retail sales GIG, or a get rich quick scheme but I can tell you like anything, stick with it, don't quit and there will be a day where this will be my only career. I'm creating a lasting financial platform of residual income that I can still continue to have fun into my retirement years doing.. and its something that I can pass down to my kids. Take a listen here.. see what i'm up to, if you have any interest let me know :) Have a fabulous day."
"I used the product and after the first night, I could tell a remarkable difference. In the morning, my skin didn't drink my daytime moisturizer like it had been in the desert all night. There is nothing like it…I just love it!"
Pam D., Account Mgr. for National Media Company, Chicago, IL
"I'm a registered nurse and I see all kinds of skin care products. Skincerity has proven medical results behind it and it really works! I personally realized visible results within days..I don't need night creams anymore because I'm getting all that I need with Skincerity."
Georgia S., Registered Nurse, Houston, TX
One product. One solution.
▪ Deep cleans on contact and flash-dries in seconds.
▪ Delivers a continual source of antioxidants to combat sun damage.
▪ Smart-science clinging action helps shed dull skin cells.
▪ Rehydrates your skin naturally.
▪ Nourishes damaged, parched skin.
▪ Diminishes the appearance of facial redness, does not clog pores
▪ Reduces the appearance of fine lines, wrinkles, and enlarged pores.
▪ Can be used on face, hands, neck, and chest to help prevent the signs of premature aging.
▪ Safe to use on all skin tones and skin types.
▪ Clinically tested. Dermatologist recommended.
For more information on SkinCerity, or to schedule an evaluation, visit Welcome to NuCerity