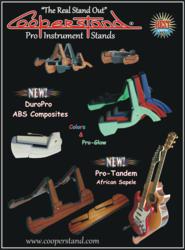 "One of, if not the best, innovative pieces of gear for the musician to come along in a while. I just wish it could have been called THE CROPPERSTAND." - Steve Cropper - Blues Guitar Icon, Songwriter and Producer
(PRWEB) November 20, 2012
Coopercopia LLC, which was founded in 2009 by owners Daniel Cooper and Melanie R Dyer won Best Of Show at the 2010 Summer Nashville NAMM show with their flagship product the wood folding guitar stand called the Pro-G Cooperstand. The stand was designed by inventor Daniel Cooper. That same year Coopercopia began producing a Taylor Guitars co-branded version of the Pro-G which is featured in their Taylorware accessory catalog. The birth of Cooperstand began in a garage but has expanded with distribution both in the US and internationally. The Cooperstand instrument stand is considered to be one of the most stable stands on the market and was unique enough to receive a full utility patent in a record two and half years. The 100% recycled ABS composite classic black Ecco-G was added to the line in 2012. With superior stability and strength it can hold it's own on active stages.
Recently, Coopercopia LLC announced the addition of several new products to their line:
The Pro-Tandem provides superior support for two instruments in a limited space.
The Pro-Tandem's durable construction blends superior function with a classy visually impressive furniture quality design.
The Pro-Tandem is finely crafted from African Sapele. Designed for but not limited to acoustic, electric, and bass guitar, Pro-Tandem will securely support one or two instruments at the same time. Designer autographed. $74.95 with free shipping in the USA.
The Duro-Pro line is a color version of the popular Cooperstand Ecco-G stand. Coopercopia's ABS stands have all the same great features as the popular African Sapele Pro-G guitar stand. Duro-Pro's flexible highly durable design securely provides unsurpassed full sized support for acoustic, electric or bass guitar, ukulele, mandolin, and more. DuroPro is a compact guitar stand that will stand up to the demands of cluttered on- stage use, and are economically priced to meet the needs of most musicians.