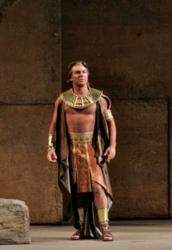 Santa Fe, New Mexico (PRWEB) November 18, 2012
Opera fans in Santa Fe, NM, don't have to wait until the 2013 Santa Fe Opera season to see an opera locally because The Lensic and the Santa Fe Opera are bringing the Met Opera: Live in HD — 'Aida' to the screen straight from the Met Opera stage in the Lincoln Center, New York, New York via a live satellite telecast. The live performance HD telecast is from 11 a.m. to 1 p.m. Saturday, Dec. 15, 2012 and the rescreening is from 6-9 p.m. Saturday, Dec. 15, 2012. This event is featured on Santa Fe, NM's premier on-line visitor guide, SantaFe.com.
Verdi's iconic opera set in ancient Egypt stars powerhouse Ukrainian soprano Liudmyla Monastyrska, who makes her Met debut in the title role of an enslaved Ethiopian princess. Olga Borodina, one of the world's best-known interpreters of the role, sings Aida's royal rival, Amneris, and Roberto Alagna is the hero Radamès, who must choose between his love for Aida and his duty to his country.
Fabio Luisi conducts his first Met performances of the opera, which also stars George Gagnidze as the Ethiopian king, Amonasro. Sonja Frisell's spectacular staging uses the full theatrical capabilities of the Met stage to immerse the audience in the grandeur of ancient Egypt.
Ticket Info:
Purchase Tickets Online or by phone at (505)988-1234
Admission: $28/$25/$22 Student Discounts Available
About The Lensic:
The Lensic Performing Arts Center opened as a nonprofit in 2001 following the restoration of the Lensic Theater, a cornerstone of downtown Santa Fe since 1931.
The Lensic:

Serves as a national model for a sustainable arts center—with its focus on performance, education and community programs.
Presents over 200 eclectic performances year-round, at affordable prices, delivering outstanding local, national and international talent.
Enriches public education by bringing more than 10,000 school children to the theater annually to see free performances of music, storytelling and dance.
Subsidizes local arts organizations, like the Santa Fe Concert Association, Santa Fe Symphony and Santa Fe Pro Musica by covering half of the rental fee for each group that uses the theater.
Offers its facilities to local nonprofits for free, or at a nominal cost, helping more than 160 organizations raise $1.7 million over 10 years.
Delivers best-in-class technical support capable of serving world-class organizations from traveling Broadway shows to the Moscow Ballet.
Sponsors a technical internship and scholarship program to train Northern New Mexico high school students in theatrical arts.
Serves as a home to the nonprofit Tickets Santa Fe, a community box office serving more than 35 organizations and venues.
About The Santa Fe Opera:
From the unlikeliest of beginnings—an opera company located hundreds of miles from any major city, featuring American singers in a wide-ranging and challenging repertory, and treating theatrical and musical values as equally important in its productions—The Santa Fe Opera has grown to become recognized as one of the world's leading cultural festivals.
About SantaFe.com:
SantaFe.com provides locals and visitors to Santa Fe alike the most current interactive platform for events, music, arts, business, dining and lifestyle. SantaFe.com is a division of Hutton Broadcasting, located at 2502 C. Camino Entrada, Santa Fe, NM 87507
Contact Information:
Scott Hutton
SantaFe.com / Hutton Broadcasting
http://www.santafe.com
(505) 471-1067 (Media inquiries only, please)