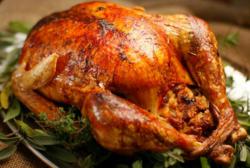 Thanksgiving is just like any other holiday in Belize in that there's a unique multicultural flavour to the festivities.
(PRWEB) November 19, 2012
Globalisation may be fuelling the growing trend of traditional holidays being celebrated in exotic locations, Larry Waight, the Lodge at Chaa Creek's marketing administrator said today as Belize prepares for its annual Thanksgiving celebrations.
Belize, a tiny English speaking country with the world's second largest barrier reef and a rich Maya heritage, has over the years blended a traditional North American style Thanksgiving with elements from its various cultures to create a unique holiday that continues to grow in popularity both locally and with overseas visitors, Mr Waight said.
"It used to be that Thanksgiving was something that was celebrated by North American expats living here and by some of the resorts, but it's been embraced by more and more people and is now widely celebrated throughout the country and especially here at Chaa Creek.
"Belizeans love a good feast and we do have much to be thankful for, so it makes sense that the Thanksgiving concept caught on so well. But what has surprised me over the last few years in the number of enquiries we get about whether or not we celebrate Thanksgiving here at Chaa Creek.
"The answer is definitely yes. In fact, for several years now we've been offering a Chaa Creek all-inclusive Thanksgiving Holiday Package where everything, accommodation, meals, activities and transfers are included in one set price " he said.
Mr Waight said that that Chaa Creek's Thanksgiving Vacation Package, an all-inclusive minimum three day mix of fine food, activities and relaxation is available throughout November and includes beautiful cottage accommodation, guided bird walks, visits to the Butterfly Farm, Natural History Museum and Rainforest Medicine Trail, canoeing on the Macal River, swimming pool and hiking the vast network of pristine jungle trails while exploring ancient Maya temple sites and relaxing around the pool or on a private veranda.
"As with any Thanksgiving, the accent is on food, but any excess is made guilt free by all the healthy activities, so that you get fit while you get full," he said.
Turkey dinners have a long history in Belize as the ancient Maya hunted and then domesticated wild turkeys, Mr Waight said, so Chaa Creek's annual Thanksgiving turkey feasts are continuing a culinary tradition stretching back for hundreds of years.
"Thanksgiving is just like any other holiday in Belize in that there's a unique multicultural flavour to the festivities. In Seine Bight or Dangriga there will be Garifuna drumming in the background, out on Ambergris Caye there will be lobster on the table, and here in Cayo you'll find tamales and maybe a mole sauce to go with the turkey. That's what's so special about Belize – our harmonious multiculturalism, and that really comes out over the holidays," Mr Waight said.
Mr Waight also said that Belizeans also respect the spirit behind Thanksgiving. "We have much to be thankful for here, and while we like sharing that with visitors all year long, it's great to have one day out of the year dedicated to reminding us how much we do have to be grateful for," he said, and added , "I think I speak for all of Chaa Creek in wishing everyone a happy thanksgiving."