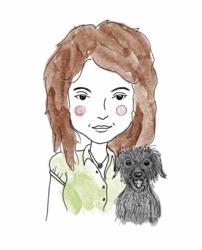 "I wanted people to feel comfortable about healing without the hippy-vibe".
Chicago, Illinois (PRWEB) November 20, 2012
Frank Barcenas, host of of "Spiritual Voices and Healing"; based in Ireland, will be interviewing Nourhy of NowStudio. The show can be heard on A1R (A "ONE" R) Psychic Radio and will be aired 8:30PM Eastern Time, 7:30 Central Time, 6:30PM Mountain Time, 5:30 Pacific Time on Tuesdays and 1:30AM Wednesdays in Ireland.
Nourhy will talk about her near death experience from being hit by a drunk driver changed her life and started her on the path towards her holistic work. It took almost a year to recover from the accident and then she suffered with pain for many years. In that time she tried many healing modalities and worked with many healers to heal herself. That really sparked her interest in trying to take what she learned and try to help others.
Before the accident, Nourhy worked for Richard Driehaus as a Personal Assistant, after the car accident I didn't want to work in that field. I needed a change...I was not cut out for the insane hours of being at someones beck and call. I realized I needed to do something with my hands, that would bring me joy, so I worked for an Art gallery for awhile and there I learned about the healing powers of stones, from there I decided to go to massage school to add a level of seriousness in regards to healing.
"I wanted people to feel comfortable about healing without the hippy vibe, because when I was healing, I went to all kinds of people who talked to me in a way that I didn't like. I've always been intuitive and I know I didn't like when people sounded flaky so I didn't want to sound that way either. I wanted to be able to give the people who wanted practical knowledge, what they needed. And to give the others who were interested in talking about abstract things like fairies and angel that type of conversation too but in grounded way. I wanted my work to have a basis in science and appeal to all types of people. I have clients that want me to use my intuition to give them readings and I have others who don't want to know anything, but they just love getting a massage and they like what I do.", said Nourhy.
A healing session is a very personal experience and no 2 people experience it in the same way. It can be more energy-work, massage, reflexology, craniosacral, or more Intuitive coaching...sometimes a mix of all for each. But in the end, each person may find themselves being a little more open because of how relaxing and calming it makes them feel and that is the best way to get people to believe that holistic therapies may have something to offer them.