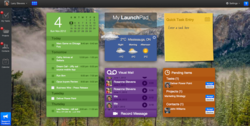 Why 36 Countries Love Opus Workspace
Toronto (PRWEB) November 19, 2012
Opus, was build on the premise that every movement inside the workspace would evoke positive endorphin releases, motivating professionals to delegate and accept responsibility getting results. Scientific research with multiple focus groups has provided Opus with prudent information that creates an intimate relationship with a users workspace. The genius is in the simplicity of the tool that allows the human brain to succeed. Opus was built so that it gives you every opportunity to do just that!
Keeping users workflow inside their workspace when information is received by the Opus platform, has it pre- organized and parked waiting for users direction, in the sequence it was received. Whatever the action, Opus takes care of the rest, insuring that the relationship promotes success. FYI's allow users to send in real time updates or notifications. Again, all pre-filed prior to its delegation. Virtual collaboration Instant messaging is always active anywhere in interface.
Opus Workspace has the first of its kind designed interface, allowing Opus users to simplify and have the freedom to and manage as a team internally or globally. CEO, Larry Stevens, describes Opus as an automated virtual workspace that demands success. With this in mind, like minded users can truly be successful producers.
Opus was design to absorb the fast paced life, work overload and failed accountability. Regardless of the urgency of the communication, "Opus Visual Notification System" allows users, regardless of the emotion, to eliminate unnecessary steps that simply bog down workflow.
Opus Workspace has developed a virtual, yet private collaboration SaaS software for like minded people. Users can share and explore information in real time around the globe or privately within a formed group, designed by Opus members. Opus allows members to manage their way and get results.
Professionals are increasingly using business social networks as a means of growing their circle of business contacts and promoting themselves online. By connecting these business partners through http://www.opusworkspace.com allows individuals to search for certain people within their Opus contact list. Through invitation only, Opus Workspace members can contact new prospective users and begin a working relationship instantly. Since businesses are expanding globally, Opus Workspace makes it easier to stay in touch, plan, track, delegate and collaborate with other contacts around the world in real time. When Opus users are sleeping, Opus is still working as the "Launch Pad Activity Stream" will track and organize any activity while users are away. Providing a specific cross-border platform and business partnering using the Virtual Workspace feature now makes it possible for small and medium sized companies to grow without boundaries. Simply put, the Opus Workspace intention is to make users want to be better everyday!