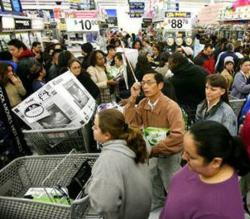 New York, NY (PRWEB) November 19, 2012
Black Friday is just 4 Days Away!!!
Retailers have this historical problem with their annual sales. For most part of the year, their annualized or accrued net profit is in the red. This means that for the most part of the year retailers are losing money. That changes the day after Thanksgiving. The total sales for the Friday after Thanksgiving more than makes up for the earlier part of the year, all ten and a half months of it. The sales figures are so skewed that on that single day, retailer accounting all goes into the black. This single annual phenomenon has been immortalized by calling the Friday after Thanksgiving as Black Friday, the turning point for yearly retail sales.
On Black Friday which is an extended holiday to be with family and relax, almost the whole country goes out and starts Christmas shopping, or Holiday shopping, or just shopping for bargains. This nationwide shopping event has become so important for retailers that they have taken steps to ensure that shoppers will all go out and make Black Friday a family affair.
Now, take a minute to digest that and then understand that the majority of the nation are in stores. Understand that what happens next becomes logical: hot traffic items like the most popular toys all sell out on Black Friday.
With everyone in stores, there are ways to make sure that Black Friday shopping remains stress free, During the past few years, a lot of people have taken it upon themselves to be prepared and make sure that they do not stress out during Black Friday.
Here are some of the latest trends to ensure hassle-free Black Friday shopping:
1. Shop online. This is the most important tip because everything else hinges on this. This strategy keeps smart shoppers at home and far from crowds. In years past, Black Friday had taken on riot and pandemonium levels inside stores. A breakdown can easily happen from all the pressure of shopping inside a crowded store.
2. Coupons. Grab plenty of coupons and lay them out. Use coupons not only as a way to save on purchases, but also to plan what you want to buy. Make sure coupons are in hand for most desired purchases. The savings will come in handy later and a goody pot is a possibility with all the money saved by the use of coupons.
3. Research. Stores have sale items and promos. Research and compare across the stores. The additional savings might not be substantial, but when added up, it would be a good enough sum. Besides, when online shopping, there is no additional cost to run between stores.
4. Check the time. Stores open at different times. Promos open at different times as well. Shoppers can start shopping earlier on the east coast due to the time zones. Admittedly, it's like standing in line overnight at the store waiting for the doors to open. When shopping online consumers can stay in the comfort of your own home.
5. Take credit cards into account. Some stores have tie-ups with credit cards. Other times, it's the credit card company which has promotions for sales. Either way, double check that credit cards are giving added help with incentives too. That's on top of making sure that the credit card company is not charging extra fees and stay below the credit limit to play it safe.
Now take a deep breath. Enjoy Thanksgiving and then hit the browser for your Black Friday sales purchases.
Smart shoppers need to continually check for all the best Black Friday sales and deals from all online retailers. Find Walmart Black Friday Deals, Amazon.com Black Friday Deal of the Day, Target Black Friday Deals and Kohls Black Friday Deals.