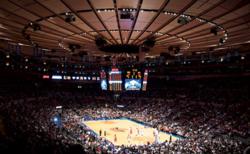 New York, NY (PRWEB) November 19, 2012
The long 82 game NBA season is still young. Anything can happen. But the Knicks are already off to a blazing start, and fans are showing their love with a strong ticket run of their own.
The Knicks are the first team in 25 years to open the NBA season with five straight wins by 10 points or more. Then they went on to beat the Spurs in San Antonio on the strength of a stunning comeback from a 12-point fourth-quarter deficit. That kept the Knicks undefeated in their first six games, a record that includes three road wins and a defeat of the defending-champion Heat. After a loss to the Grizzlies, the squad went home for a Sunday game against the Indiana Pacers and won by 12 points.
"Madison Square Garden has room for 19,033 basketball fans. By game time, most, if not all, of those seats are officially taken," said Felina Martinez at online ticket marketplace BuyAnySeat.com. "Although many of the upcoming Knicks games are officially sold out, we're proud to be able to offer fans a great selection of discount New York Knicks tickets, with a worry-free guarantee to protect their purchase," said Martinez.
"In fact, we have a big selection of cheap New York Knicks tickets now available on our site," said Martinez. "To access the complete selection of discount New York Knicks tickets we now have available, customers can go to BuyAnySeat.com and search for the New York Knicks – then select their tickets," said Martinez.
As one of the league's most storied franchises, the New York Knickerbockers were established in 1946. They are one of the founding members of the Basketball Association of America (BAA), which became the NBA after merging with their rival, the National Basketball League (NBL) in 1949. In addition, the Knicks are one of only two teams in the original group that are still located in their original city. The other team is the Boston Celtics.
The term "knickerbocker" comes from a pseudonym used by Washington Irving in his book, A History of New York. It was used to describe the descendants of New York's original Dutch settlers, then later, New Yorkers in general.
The Knicks were successful during their early years and were constant playoff contenders. They won two championship titles under head coach Red Holzman in 1970 and 1973. Led by Patrick Ewing, they were consistently in the playoffs during the 1990's, highlighted by two appearances in the NBA Finals in 1994 and 1999. But, unfortunately, they never won a title during this time primarily due to Michael Jordan and the Chicago Bulls who thwarted the team in many of their pivotal matchups.
Since 2002, the Knicks have struggled to recapture their former success. Last year, the team secured their first playoff berth since 2004, when Carmelo Anthony ensured the franchise's first winning season since 2000 with the game-winning basket. The team was ultimately eliminated by the Celtics. While this year's season has only just begun, New York fans are ready to help propel their team to the title this year. Stay tuned.
To shop for cheap New York Knicks tickets, or tickets to any other NBA game, visit BuyAnySeat.com.
About BuyAnySeat.com: An online ticket marketplace, BuyAnySeat.com connects sports, theater and other live entertainment fans to an extensive worldwide network of ticket sellers. The site's simplified listings and navigational tools enable fans to easily locate, compare and purchase inexpensive, discounted or lower-priced tickets to virtually all advertised sports and entertainment events around the globe. The site, which is PCI-compliant and Norton Secured, also provides customers with a complete Worry-Free Guarantee on all ticket purchases. Based in Denver, Colorado, BuyAnySeat.com is a subsidiary of Denver Media Holdings. For more information, please visit http://buyanyseat.com.