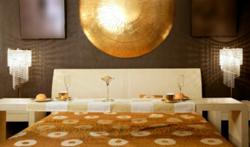 The spice of live should never be ignored!
San Francisco, California (PRWEB) November 20, 2012
Today, the US is a country that enjoys searching for new styles. In a tour of any city you can find English style pubs, authentic Japanese restaurants, and coffee shops designed to look like those in Rome. Curious about the outside world, the world of the traveler has been brought home. And the traveler that is also an interior designer can turn the modern home into a hundred different styles. An interior designer can turn the gift of make-believe into a home design reminiscent of faraway places. To live without this gift of design in your home is to miss all of the fun.
This art of make-believe has spilled over into many of today's homes. Décor and furniture from other cultures have always added an element of visual excitement to a home design. It can be achieved simply by placing an item, like the Arabian decorative bowl from KindaChic.com, an online home décor and furnishings retailer, in the center of a dining room table to rekindle thoughts of exotic vacations. Another simple idea is to place the Verona table lamps beside the sofa to add a bit of longed for cultural mystique from an earlier homeland. Every country's style is now available to bring home to rekindle the cultural mystique of time spent abroad. Persian rugs are a mainstay of decor in American living rooms and bedrooms. Along with the Persian rug, Victorian-era antiques, French chandeliers, and Italian marble have also been popular in American homes as travel has made cultural icons familiar. At KindaChic.com, a variety of cultures are represented in this product line. Surely, memories of Scandinavian hipness will be renewed at the sight of the Danish mid-century classic red leather Swan Chair, a reproduction of Arne Jacobsen's famous piece. The Modern Italian Leather Daybed or the Genoa glass topped coffee table will revive the living room with the design chic experienced in Milan. Isamu Noguchi's wood and glass coffee table gives a room the organic shape of a modern furniture style unique to Japan.
Bring to life the memories of time spent abroad through home decor pieces to bring the spice back to everyday home life. Adding a bit of cultural mystique to your home décor from exotic places can also spark motivation for future trips. To live without this spark or spice is to ignore past or future plans. And the spice of live should never be ignored!