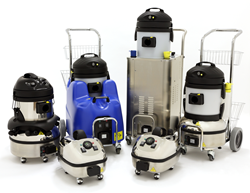 Daimer® is delighted to offer free during a special promotion our patent-pending EPA-compliant ATIS® technology, a $500.00 value. All Daimer® vacuum steam cleaner models include ATIS®, and each model includes an EPA number to prove authenticity.
Woburn, MA (PRWEB) November 19, 2012
Daimer Industries, Inc.®, the world's leading U.S. brand of steam cleaner machines , including industrial steam cleaner machines, vapor steam cleaner systems and carpet steam cleaner equipment, is now offering its patent-pending Advanced Thermal Ionic Sanitization® (ATIS®) technology with all its steam cleaner vacuum models, namely the KleenJet® Mega 500CV, Mega 1000CV, Supreme 3000CV, and 5000CV models.
The technology has been scientifically proven to kill 99.99% of MRSA, Listeria, and other disease-causing bacteria and mold, as per independent tests conducted by one of the most prestigious, nationally recognized laboratories. The machines are ideal for killing bed bugs, pest control in restaurants, bacteria in hospitals and for use in healthcare facilities, schools, companies, and other organizations. Harmful bacteria helps contribute towards Sick Building Syndrome.
"Getting complete sanitization even after regular cleaning is not always possible unless some superior technologies are used," says Daimer Industries, Inc.® spokesman Matthew Baratta. "Daimer® is delighted to offer free during a special promotion our patent-pending EPA-compliant ATIS® technology, a $500.00 value. All Daimer® vacuum steam cleaner models include ATIS®, and each model includes an EPA number to prove authenticity."
The bacteria-killing vapor steam cleaner machines from Daimer® can help protect children, pets, the elderly, and those with many illnesses, and are best used to clean dirt and germs in homes, hospitals, hotels, restaurants, and other commercial and non-commercial locations. These machines can be used as floor steam cleaners, and also feature exclusive dry and wet vacuuming, Water Capture, and HEPA, which captures particles of up to 3 microns in size for extra protection while reducing symptoms in those with COPD, asthma, and other ailments.
The systems not only remove debris and moisture, but also kill and capture allergens including pollen, dust mites, animal dander, and pet hair from various surfaces. However, vapor steamers are not considered carpet steam cleaners, even though the technology can clean carpet spots and areas.
Many food borne illnesses are spread due to inefficient cleaning. Certain strains of bacteria, such as E.Coli and Salmonella, live on surfaces like cafeteria tables, food contact surfaces, sinks, doorknobs, and other surfaces even after cleaning. As per statistics, Salmonella infections result in approximately 1.4 million diseases each year, and over 160,000 people in the United States die from an infectious disease every year.
Daimer®'s vapor steam cleaners include the germ-killing ATIS® technology is integrated within the systems' boilers, and provide easy and bacteria-reducing cleaning. The technology is ideal for cleaning contractors that want to make a mark in the industry and remain at the top by providing superior cleaning results with a proven bacteria-obliterating technology.
The company's extensive range of KleenJet® Mega, Supreme and Ultra commercial steam cleaner models generate pressure levels of up to 125 psi and create temperatures of up to 369°F, ideal for tackling a wide range of steam cleaning applications. TheKleenJet® Supreme 3000CV and Ultra 5000CV include exclusive Non-Stop Steam™ for high pressure vapor steam flow all day. Every "CV" series models include Daimer®'s patented scale reduction technology to help prevent mineral and scale buildup within the boiler, and maintain maximum pressure and temperature.
Daimer® maximizes user productivity with most models by including advanced, self-regulating, continuous refill technology, which allows users to add water while the machine is still in operation. Other brands require the powering down of their machines when water is depleted. Depressurizing, adding water, and reheating can take up to an extraordinarily long 40 minutes.
All of the company's steam vacuum cleaner models include over 36 parts and special accessories, more than other brands. Every steam vac model includes a steam-only kit with a hose and complementary parts. In addition, the machines include a steam vacuum kit featuring a steam vac hose as well as a wide assortment of brushes plus other items for use on most surfaces.
For Additional Information:
Learn more about Daimer® commercial steam cleaners machines and technologies and products by visiting the company's website , or by calling Matthew Baratta directly at (888) 507-2220. The machines are available for shipment to most countries around the globe.
About Daimer Industries, Inc.®:
Daimer Industries® is a highly-respected supplier of more than 600 models of machines, such as industrial steam cleaner machines, carpet steam cleaner machines, pressure wash systems, and gum removal systems, for tile and grout cleaning, auto detailing, and many other commercial and industrial cleaning applications throughout the world.