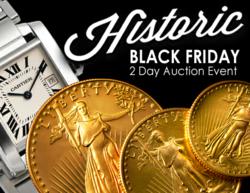 Tehachapi, CA (PRWEB) November 19, 2012
GovernmentAuction's November 23, 2012 auction will feature a large cache of luxury goods including, designer watches, precious gems and gold coins in this week's auction event on the online auction site LiveAuctioneers.com. Bid on over 1,300 items in this one day historic event with bidding starting at only $2 on most lots.
An exceptional Patek Philippe Geneve Watch is an auction highlight in the elite timepiece category. The Patek Phillipe Company was first started in 1839 and has remained a family owned business by four generations of the Stern's since 1932. The company is Geneva's oldest independent family-owned watch manufacturer. Patek Phillippe watches are quite exclusive with roughly 200 models created in small production series thereby guaranteeing their rarity. The Patek Phillippe is preowned, composed of a simple yet classic design of black leather band, steel case, and white face with black roman numerals. Another fine luxury watch for auction in GovernmentAuction's horde of timepieces is a Men's Rolex Oyster Watch. The watch is a vintage piece made of stainless steel with a white face.
Included with the multitude of jewelry pieces is a standout 27.04CT Pear Cut Blue Sapphire & Diamond Ring. The ring is composed of 14k white gold with the large sapphire elevated above the band portion of the ring. The band enclosure is "V" shaped to match the proportions and composition of the main sapphire and is surrounded by 1.82CT's of diamonds on the side.
In keeping with the luxury theme offered for auction is a Louis Vuitton "Claudia" Purse. The top purse is brand new from the factory and sure to be a bidding favorite. The top handle handbag is mainly white with leather straps and corners with the LV signature design prominently featured as a multicolored pattern throughout. The monogram multicolor is a creation of designer Takashi Murakami exclusively for Louis Vuitton.
For the numismatics or gold investors a rare coin offered on this Black Friday event is a 1881 U.S. $10 Liberty Gold Coin. The "Eagles" as they are known are large coins composed of 90% gold and10% copper, which lends itself to the coins deep rich golden patina. This coin type was minted from 1866-1907 in Philadelphia. The front side of the coin features a golden coifed Lady Liberty with the majestic American Eagle of the reverse.
In the antique category a spotlight lot is #47a - Antique Regina Music Box. This stately piece has an automatic 27.5 inch disc changer circa 1900. The changer is incased in luscious mahogany with spindle railing on top of cabinet and carved corbels.
Additional auction highlights include a 2.65 Princess Cut Diamond Gemstone, Audemars Piguet Watch, Mills Hi-Top 5 Cent Slot Machine, National Cash Register Model 13 and more.
To view this auction please click the link below
Rolex Watches, Louis Vuitton Handbags & Gold Coins - Friday, Nov 23, 2012 | 6:30 AM Pacific
http://www.liveauctioneers.com/catalog/33926_historic-gov-auction-black-friday-sale/page1
For additional information on any lot in the sale, call Debbie on 661-823-1543 or e-mail info(at)governmentauction(dot)com.
About Government Auction
Government Auction was founded as a general resource to buying assets such as jewelry , gemstones, memorabilia, collectibles, art, prints, antiques, and vehicles throughout the United States. Most people don't realize there are hundreds of thousands of assets and valuables that are seized everyday and made available through various resources. Many of these confiscated assets are passed on to us for immediate liquidation. Some examples of how we acquire requisitioned objects are from bankruptcies, IRS, estate sales, trusts, and more.
Government Auction is the largest company of its kind and the only one in the United States that works closely with these agencies to acquire literally thousands of assets and confiscated goods, such as Ruby Gemstones, Sapphire Rings, and Men's President Rolex Watches, Mercedes Benz, and Gold Coins. In most cases we acquire these treasures at a fraction of their actual retail value. Once acquired these items are liquidated through the auction site. Clients are made up of just the everyday person who wants to buy a Diamond Bracelet, Pearl Strand Necklace, Sterling Silver Pink Sapphire Earrings, Oval Cut Emerald Gemstone Parcel, Remington Bronze Reissue at an unbeatable price.
All assets that we offer are normally at a 30% - 60% savings to the client. What this means is consumers are making a good investment immediately. By purchasing assets cheaply people can make a sizeable profit if they decide to resell it later on.
Government Auction is one of the most reputable jewelry and gem clearinghouse company in the U.S., with over 20 years of experience.